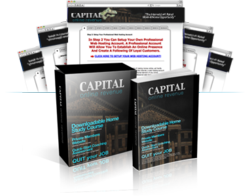 Bradenton, FL (PRWEB) June 13, 2011
The fact that the unemployment rate leaves little room for those on the job hunt to secure a new position is no secret, but what many people may not be aware of is that there are programs that provide the information they need to secure their own jobs, without the help of others. These programs, such as Capital Online Revenue, provide industry knowledge concerning the management of online businesses and have prompted many entrepreneurs to embark on their own creative business endeavors. Currently, Capital Online Revenue is offering a program targeted to helping individuals develop their own online businesses and secure their own income.
In an economy that is down, the key to success is to provide a product or service that the market is lacking, resulting in a loyal clientele. Though this may sound simple, the fact remains that there are millions of organizations out to do the same, meaning that the ones that are capable of becoming established parts of the business community are those that are the most creative and offer the most innovative solutions to consumers.
Capital Online Revenue supports this spirit of creativity by educating individuals, both with and without business experience, in the nuances of developing and maintaining an Internet-based business. Though having a background in business is certainly a plus, the lessons taught by Capital Online Revenue are structured in such a way that clients of the product do not need any prior knowledge before starting the program.
Oftentimes businesses fail because those that start them do not have the information they need to properly manage their money or structure their company. With Capital Online Revenue, individuals can learn the skills they need to put the company together before starting their venture, meaning that from the very beginning they will have a clear understanding of how to run their business.
About:
Capital Online Revenue is an educational system that provides individuals with the knowledge they need to develop and manage a successful online business. The traditional job market has failed to provide the employment that workers need to support their families and generate a regular source of income, so many are turning to Capital Online Revenue to learn how to create their own opportunities.
Through the lessons that Capital Online Revenue provides, many individuals have managed to secure more than just income; they have taken control of their time, their careers, and their professions. Through flexible schedules and the ability to make their own business decisions, many of these entrepreneurs have improved their lives.
For more information about Capital Online Revenue visit http://www.capitalonlinerevenue.com.
###