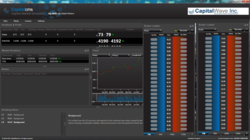 Wow!!!
New York, NY (PRWEB) August 31, 2012
CapitalWave Inc, a leading creator of financial market simulator software, has just released a major update for its CapitalCMS software. The original CapitalCMS software was released in January 2011, and it's designed for traders to experience the high pressure of volatile markets and real time trading. It also enables the instructor to keep the experience under control. This latest update includes a variety of new features that designers and clients alike say widens the margin between their stock market simulator and those made by other companies.
"'Wow' is one word we're hearing a lot since we started presenting this latest version of our capital market simulator," says Capital Wave Managing Director Bryant Nielson. "I think the one feature that is most appreciated in this update is the ability to create an unlimited number of simulations. Clients are no longer locked in by the simulations we've created; they can now create their own simulations that are relevant to what they're working on."
Other updates on the latest version of the CapitalCMS software include:

New user interface
Updated charting functions
Updated news feeds
Extensive compliance fix
Expanded trader analytics
Better performance
Online simulation writer
New security features
Updated registration system
Amazingly simple client co-branding
CapitalCMS was nominated for the "Most Innovative New Learning Software Product" in the 2011 E-Learning Awards.
About Capital Wave:
Capital Wave is an innovative financial training company that specializes in instructor-led training for the financial markets. Courses include Equity Fundamentals, Fixed Income, Investment Management, Investment Banking, Forex, Commodities and Energy, Wealth Management, Risk Management and more. The company is also a leading creator of simulations for the financial markets.