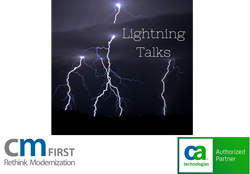 Austin, TX (PRWEB) August 15, 2016
On August 23rd, 2016 at 11 AM EDT, CM First experts join CA Technologies' Steve Solomon to explain how CA Plex now includes powerful modernization capabilities. http://www.cmfirstgroup.com. Solomon, CA Plex Principal Product Manager, will provide attendees with the release 7.2.1 features and a roadmap for the future of CA Plex, encouraging developers to strongly consider upgrading as soon as possible.
In addition, CA Plex experts, like the services Jedi at CM First Group, will provide four 'lightning talks,' short, but deep dives into such features as RESTful APIs, Microservices, .Net Generation, Mobile Data and Responsive Web Design, all now powered by CA Plex and super-charged by CM First solutions.
CA Plex experts are encouraged to email the organizers with ideas for a lightning talk or to join the panel at: info(at)cmfirstgroup(dot)com
Register for the webcast today at: https://attendee.gotowebinar.com/register/2468915253141467138. Don't miss out on the chance to learn how to leverage the latest tools, have much more fun in development and earn points for making customers happy.
About CM First
CM First is a global software and services company established in 1999 with a focus on modernizing applications, managing technical debt and the agile development of enterprise apps. Delivery areas include; migrations of software code, databases and IBM hardware, custom app, architecture and API development, mobility solutions and knowledge transfer. CM First works with hundreds of IBM and CA Technologies business-critical systems worldwide, with numerous reference customers covering industries as diverse as logistics, travel, insurance, food processing and oil and gas construction. For more information, visit http://www.cmfirstgroup.com
CM First Contacts
EMEA Headquarters
+41 41 508 01 05
info(at)cmfirstgroup(dot)com
Americas Headquarters
+1-512-600-1484
+1-888-866-6179
infotech(at)cmfirstgroup(dot)com
France
+33 608 504 285
infofrance(at)cmfirstgroup(dot)com