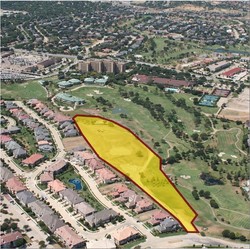 At a time when many lenders are shying away from land loans, or real estate loans altogether, Capmark was able to arrange this pre-development loan with a local Dallas bank
Dallas, TX (Vocus) January 13, 2009
Capmark Finance Inc. (Capmark Finance) originated $6,500,000 in floating-rate, interim debt secured by a 7.73-acre parcel of developable land adjacent to the Four Seasons Resort and Club Dallas at Las Colinas in Irving, Texas. The low- leverage, pre-development loan features interest-only payments for the three-year term.
The property is located across from the Four Seasons Resort and Club Dallas at Las Colinas, along the 17th and 18th holes of the recently re-designed TPC Four Seasons Las Colinas golf course. The Four Seasons is a 400-acre destination resort with a 431-key luxury hotel and a variety of recreational activities including a 176,000-square-foot sports club, two championship golf courses, multiple swimming pools, an award-winning spa, a private country club with approximately 1,600 members, gourmet dining venues and 40,000 square feet of indoor and outdoor meeting space.
Senior Vice President Ashley Harkness of Capmark's Dallas office originated the transaction for borrower Bentley Forbes Ltd. The lender was Legacy Texas Bank.
"At a time when many lenders are shying away from land loans, or real estate loans altogether, Capmark was able to arrange this pre-development loan with a local Dallas bank," said Mr. Harkness.
"The location of this property is truly exceptional," Mr. Harkness said. "It would be difficult to find a residential land parcel in Texas that is comparable, given its proximity to the Four Seasons Resort and Club and the frontage on the final holes of a championship golf course." The TPC Four Seasons at Las Colinas is the site of the annual HP Byron Nelson Championship.
Property photo available upon request.
About Capmark®:
Capmark is a diversified company that provides a broad range of financial services to investors in commercial real estate-related assets. Capmark has three core businesses: lending and mortgage banking, investments and funds management, and loan servicing. Capmark operates in North America, Europe and Asia.
Capmark Finance Inc., the U.S. real estate lending and mortgage banking operations of Capmark, has access to multiple capital sources and offers a full range of financing solutions and resources. Capmark Finance is a direct lender, a correspondent for insurance companies, pension funds and other capital markets conduits and one of the leading approved lenders for Fannie Mae, Freddie Mac and HUD/FHA.
With a servicing portfolio of approximately $363.2 billion as of Sept. 30, 2008 Capmark Finance is one of the industry's leading loan servicers.
Capmark Investments LP, the investments and funds management operation of Capmark, is an established manager of equity real estate and mortgage-related investments in the public and private markets with approximately $9.8 billion in investments under management as of Sept. 30, 2008.
For more information about Capmark, visit http://www.capmark.com.
Capmark Finance Licenses: CA: CA Dept of Corporations Finance Lender and Broker License (lending) and CA Dept of Real Estate, Real Estate Broker License #00398180 (brokering); MI: Capmark Finance Inc., Michigan Real Estate Broker, Phone 248-208-3460; NV: Capmark Finance Inc., 200 S. Virginia St., Suite 800-Office #804, Reno, NV, Phone 775-686-2490; NY: Capmark Finance Inc., New York Real Estate Broker.
©2009 Capmark Financial Group Inc. All rights reserved.
Media Contact:
Joyce Patterson
215-328-3842
# # #