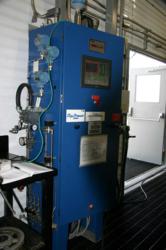 Reducing project management and reporting costs by approximately 50%makes DEEPP a win/win for us.
Calgary, Alberta (PRWEB) December 19, 2012
Cap-Op Energy Inc. (Cap-Op) used their Distributed Energy Efficiency Project Platform (DEEPP) to aggregate, track, and standardize the quantification of 18,000 tonnes of Greenhouse Gas (GHG) offsets. DEEPP enabled Cap-Op to be the first to certify and serialize GHG reduction tonnes using the government approved Engine Fuel Management and Vent Gas Capture Quantification Protocol under Alberta's Offset System The GHG offset reductions were achieved by Cap-Op clients ConocoPhillips Canada, Cenovus Energy, Husky Energy, Taqa North, and Devon Energy. DEEPP enabled these companies to save money, reduce risk and improve their decision-making with data from their own equipment.
"DEEPP enabled us to overcome all of the challenges associated with the development, aggregation, tracking and finance of carbon projects," said Keith Driver, Director at Cap-Op. "Reducing project management overhead and reporting costs by approximately 50%, while providing our clients with data from their own equipment that makes DEEPP a win/win for us and our clients."
Prior to this pioneering effort, virtually no oil and gas industry GHG offsets had been developed in Western Canada because of significant financial and technical obstacles. DEEPP has enabled and encouraged deployment of small-scale distributed oil and gas energy efficiency projects by making it easier and less costly to do offset project development and realize the value from reduced GHG emissions.
"This is exactly the kind of innovation that is required to get value for the GHG offsets to help us get reasonable economics for our investments in energy and fuel efficiency projects," stated Cenovus Energy.
"Cap-Op, using its DEEPP tool, provided us with the people and resources that we did not have to obtain the data and create and submit the documents to achieve GHG offset reduction accreditation. We appreciate this support so that we can show how our investments in innovation and technology can pay off and improve environmental sustainability, social responsibility and economic viability."
As a member of the Petroleum Technology Alliance of Canada (PTAC) we recognize the potential to achieve more GHG reductions by unifying accreditation efforts in a more standard and predictable way. The more we can improve the efficiency of achieving accreditation the more it benefits the lives of all Canadians. We are pleased that Cap-Op has developed DEEPP in that it enables us to be partners with other oil and gas companies. Reducing accreditation costs helps us encourage more energy efficiency in the energy sector.
Cap-Op Energy is a pioneer in the clean energy technology sector, co-founded by Keith Driver of The Prasino Group, and Adam Winter. Combined, they have over 25 years of experience in the clean technology and Canadian greenhouse gas regulation and implementation fields. PTAC has agreed to support the DEEPP initiative through an official PTAC Collaboration project in 2012 and 2013.