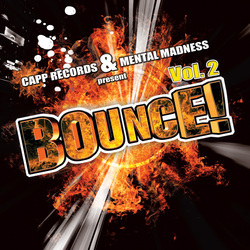 This has got to be the most ridiculously amazing cutting-edge dance compilation this year !
San Rafael, CA (PRWEB) March 18, 2010
CAPP Records is pleased to present perhaps its most compelling and engaging dance music compilation to-date: BOUNCE! Volume 2! With a powerhouse collection of 22 incredible tracks, BOUNCE! Volume 2 delivers a cornucopia of high-energy dance grooves that strike the perfect balance between the European hands-up techno sound and American dance floor sensibility! In addition to great tracks from US-based CAPP and Germany-based Mental Madness, we've brought along for the ride some great releases from our other European label partners, including YAWA, Cuepoint, STARSHIT, and Kontor.
BOUNCE! Volume 2 has already entered the Top 100 dance albums in the Apple® iTunes® Music Store,
alongside numerous other CAPP releases. On this release, you'll find both original tracks and some amazing dance covers, including: De-Grees vs. The Real Booty Babes and their smash Apologize; Empyre One with an incredible take on the hit Dangerous; CAPP's own Rikah with her latest track, Day After Day; German superstar Andrew Spencer, first paired-up with Lazard on their hit Here Without You, and then solo with his take on the 80s hit, Video Killed the Radio Star; Jan Wayne joins-up with RainDropz! for Numb; rising star Rico.
Bernasconi brings it with his great track, Love Deep Inside; international production sensation Michael Mind appears twice, once with the mega-hit Gotta Let You Go, and again with a great cover of the classic Baker Street; and CAPP's own "Elvis meets the dancefloor" star King Junior giving us a great take on Suspicious Minds.
That's not all, however… The sexy Euro girl group Ultra Flirt delivers two great tracks, first The Time is Now 2010, and later Ultra Flirt does Ultravox with Dancing With Tears in My Eyes; American super-diva Pepper MaShay drives it home with Freeway of Love; our own Dany Wild and DJ Skillmaster meet with their original track, Holding On; Kato and Ian Down bring us Are You Gonna Go My Way; DJ TLX burns it up with Island in the Sun; Brooklyn Bounce (whose name inspired the name of this compilation series!) teams-up with Sample Rippers on the awesome Louder and Prouder 2010; DJ Analyzer and our own Cary August join-up for the underground hit The Launch 2009; Austria's powerhouse producers Discotronic (a/k/a Stephan Deutsch and Thomas Greisl) put pedal to the metal with World of Discotronic; plus DJ Roxx rocks it on Jumpin and Pumpin; Picco gives a fresh sound to Walk On By; and Kindervater teams with Nadja to round out this collection with Everytime You Need Me.
Check-out BOUNCE! Volume 2!
Available now in the Apple iTunes Music Store; coming soon to AmazonMP3 and other online digital download stores.
NOTE: Many of the artists, vocalists and producers appearing on BOUNCE! Volume 2 are available for live club/DJ bookings. Just visit the booking site at: http://www.cappbooking.com .
###