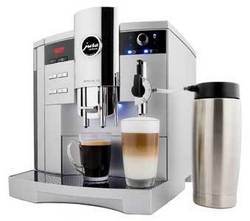 Marlboro, NJ (PRWEB) August 15, 2008
Established internet retailer 1st in Coffee announces availability of new line of Jura Capresso automatic coffee centers. Jura Capresso super automatics are Swiss built and have earned the reputation as the finest automatic coffee machines available.
The Jura Capresso ENA line consists of three models, they are the slimmest automatic coffee centers available at only 9 inches wide. They all feature bean to cup simplicity. The Jura Capresso ENA machines grind, measure, tamp, brew, serve and clean up a great tasting cup of coffee or espresso in less than a minute. While compact, The Jura Capresso ENA machines offer no compromise on features and quality.
Just arrived, the Jura Capresso S9 One Touch completely automates the preparation of cappuccino and latte macchiato. The most versatile automatic coffee center, the S9 One Touch offers advance programming technology allowing for the preparation of steamed milk based specialty coffee drinks at the touch of a button.
The Jura Capresso automatic coffee centers allow for quick and easy preparation of espresso, coffee, cappuccino, latte and macchiato.
Additional information on all Jura Capresso models can be found at 1stincoffee.com. Free shipping and free coffee with purchase.
###