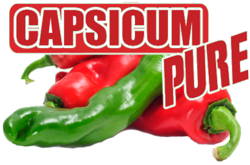 Naturally boosting metabolism, burning calories, and reducing body fat.
(PRWEB) February 04, 2013
Recently featured on the Dr Oz TV show, an all new natural supplement known as capsicum extract (Capsicum Annuum or Capsaicin) derived from the capsicum fruit, was revealed to its audience as having many health benefits and weight-loss properties without a prescription.
Pure Capsicum exposes the truth behind this new supplement and more as consumers should be aware of what it is, how it works, and any negative side effects associated with usage.
What is Capsicum?
Capsicum is a herb found in the fruit of the capsicum plant. This is the most potent part of the plant and extracted to be used in medicines. Capsicum is not newly discovered, it is commonly found in peoples diets all over the world. Capsicums are actually what gives hot peppers their "hotness", this trait has been shown to offer the unique capability of naturally boosting metabolism, burning calories and reducing body fat.
How Effective is Capsicum?
Capsicum has been used for years to relieve the pain of shingles, arthritis, and nerve damage in people with diabetes. Typically used as a lotion or cream and applied to the skin. There is also some scientific evidence that capsicum may aid in weight-loss and reduce painful tender points in people with fibromyalgia.
In addition, capsicum has been shown to reduce:
Back pain
Cramps
Toothache
High cholesterol
Heart disease
Heartburn
Migraine Headache
The most recent study on the effects of Capsicum as a weight loss aid was produced by a group of researchers in The Netherlands. The study was published in the International Journal of Obesity and showed giving subjects capsaicin with meals increased satiety and energy, as well as decreased appetite.
Another study in 2010 led by Rina Yu published in the journal "Obesity," animals that were fed a high fat diet and supplemented with capsaicin had lower levels of blood sugar and also leptin. The team concluded that capsaicin may reduce obesity induced glucose intolerance by suppressing inflammation and enhancing fatty acid oxidation, thus improving insulin resistance.
There are many capsicum based diet pills available and some have even used celebrities to market the benefits. Others have claimed that you can burn as many calories as a 1 hour walk while you sit.
In a double-blind, randomized, placebo controlled study sponsored by a manufacturer at the University of Oklahoma Biophysics Laboratory found that when users took one pill an hour before exercising, they were able to burn more calories compared to when they took a placebo.
Capsicum pills were also investigated in 2009 by a team at the University of Maryland School of Medicine. They discovered that six milligrams a day of a supplement with capsaicinoids was safe and associated with a significant reduction in abdominal fat.
In conclusion, before taking any new dietary supplements, one should first consult with a doctor before taking. With many published studies already released and more to come on the effects and benefits of capsicum, make sure to find a company that offers a money back guarantee.
For more information on pure capsicum extract, including where to buy, visit http://capsicumpure.com
Capsicum Pure is a natural weight loss supplement made in the U.S.A. featuring powerful fat burning ingredients, capsicum extract and conjugated linoleic acid (CLA). This supplement is effective in helping to burn unwanted fat without a dramatic lifestyle change.
The statements and products shown on this website have not been evaluated by the US Food and Drug Administration. These products are not intended to diagnose, treat, cure or prevent any disease.