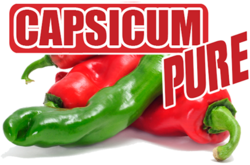 Capsicum's weight loss benefits have been studied for 30 years
New York, New York (PRWEB) February 04, 2013
On a recent episode of Dr. Oz, capsicum extract was announced as a natural, effective and side effect free solution to losing weight.
Capsicum extract is what gives hot peppers their spicy flavor, this trait also naturally boosts the metabolism and burns fat. Capsicum Pure has captured this extract in a concentrated capsule that is easy and convenient to take.
In the last 30 years there have been multiple studies showing capsicum to have the following benefits:

Enhances thermogenesis
Increases energy expenditure
Enhances loss of calories
Helps reduce caloric intake
Helps stabilize blood-sugar
Reduces LDL and lowers blood pressure
Along with those fat burning traits, capsicum is also a great source for Carotene, Capsorubin, Lutein, Capsathin, Vitamin C and Vitamin A, Rutin and Zinc.
To get the full benefits of capsicum extract, one needs to ingest a large amount of hot peppers, this can be uncomftable to the digestive system. When it is concentrated and capsulized, it elevates any negative effects in your digestive system.
"Capsicum found in hot peppers has been studied for years for its fat burning capabilities, we have captured all those benefits and put them in a small capsule" said a spokesman for Capsicum Pure.
Capsicum Pure is made in the USA in an FDA certified lab and uses only natural ingredients and vegetarian capsules, to learn more visit http://capsicumpure.com