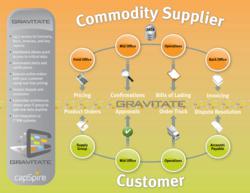 "We wanted to put more power in the hands of our customers to help them meet their changing business needs," Scharf says.
Tulsa, OK (PRWEB) July 24, 2012
Earlier this year, capSpire unveiled Gravitate, a customer web portal that streamlines communication between wholesale commodity marketers and their clients. Using secure, Web 2.0 technology, Gravitate enables wholesale marketers to more effectively communicate with customers by providing them with instant, 24/7 access to vital information. Six months after the initial Gravitate launch, further innovation and customer feedback has led capSpire to create and release the next generation of Gravitate – Gravitate 2.0.
According to capSpire co-founder Mike Scharf, Gravitate 2.0 takes the core Gravitate platform and incorporates additional functionality to give customers greater information access and communication options.
"We wanted to put more power in the hands of our customers to help them meet their changing business needs," Scharf says. "Gravitate 2.0 extends the product's architecture so that users can tie into other systems and add their own functionality."
Gravitate was developed in response to the need for wholesale marketers to communicate more effectively with their customers. Gravitate delivers dashboards and real-time prices while providing quick access to contract data, bills of lading, and invoices. This allows commodity organizations to offer a higher level of customer service and improve customer interactions.
"Before Gravitate, the customer would contact wholesale marketers via phone, email, text or fax to discuss pricing, deals, activity or commodity offerings," Scharf says. "Gravitate allows information to be streamed live to all parties; making it accurate, timely and always available."
For more information about the capSpire Gravitate solution click on link.
About capSpire:
capSpire is a global consulting and solutions company serving the Commodity Trade and Risk Management sector of the energy industry. Headquartered in the growing technology hub of Fayetteville, Arkansas, with an office in Tulsa, Oklahoma, capSpire has served over two dozen clients across North America and Europe. capSpire provides its clients with deep business and system expertise to simplify and streamline its commodity management functions for crude, natural gas, refined products, NGLs, coal, iron ore, agriculture and freight. Chief among its service offerings are IT strategy and planning, system selection, bespoke software development, implementation services, systems integration and ongoing support.