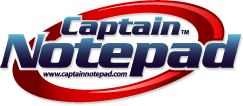 Along with the great savings we are offering, customers can now enjoy their customized notepads in less time
Englewood, CO (PRWEB) October 02, 2015
Captain Notepad (http://www.captainnotepad.com), a producer of image personalized calendars, custom notepads, magnetic notepads, and other promotional items, today announced the expansion of its current warehouse facility. In addition to its expansion, the company will be reducing its costs for large quantity orders and reducing production time on orders.
To accommodate the growing demand for its custom notepad products, Captain Notepad has expanded its warehouse by another 3,000 feet of additional space. "This new space will allow us to hold more inventory and access more people interested in our products," notes Jace Rogat, President at Captain Notepad. He continues, "The space comes from an open facility next door, making it an ideal choice for expansion."
Along with its warehouse expansion, Captain Notepad will be reducing the cost of large quantity customized notepad orders. The company currently uses UPS for its shipping needs and will now be able to reduce costs and decrease the production time from 8 - 10 days to 7 - 9 days. "The savings we received from UPS will directly affect the customer. We believe in passing along the savings to our clients wherever possible," says Jace Rogat, President at Captain Notepad. He continues, "Along with the great savings we are offering, customers can now enjoy their customized notepads in less time. We are providing our customers on average about 2 days in production time."
About Captain Notepad (https://www.captainnotepad.com)
Captain Notepad is the leading manufacturer of customized notepads and promotional items specializing in creative solutions to help brand a company's product and grow their business. Through competitive prices and great customer service, Captain Notepad has become the best source for custom notepads. What sets Captain Notepad apart is the short production time including rush production on most of the custom printed notepads.