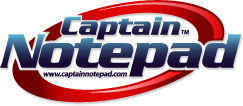 The new enhancements will insure a superior user experience for our visitors
Englewood, CO (PRWEB) August 03, 2015
Captain Notepad (http://www.captainnotepad.com), a producer of image personalized calendars, custom notepads, magnetic notepads, and other promotional items, today announced the launch of its new redesigned site: http://www.captainnotepad.com.
The new website provides quick and intuitive access to its versatile customized notepad and promotional product line. The website is streamlined and offers a customized experience for every type of business. The simplified site navigation makes it quick and easy for customers to find the appropriate product to suit their promotional item needs.
According to Jace Rogat, President at Captain Notepad, "The new enhancements will insure a superior user experience for our visitors. We know that customers will appreciate the ease of use the website offers, and the wide selection of custom notepads they can easily choose from. With limiting the number of categories we offer, and having the entire collection available for customers to use, visitors will be able to see products they may not otherwise have seen."
Website features include:
Easy to use navigation
Fewer custom notepad categories to choose from, allowing for more products to view
Showcase of featured products, bestsellers, and sales that is easy to find
Personalized experience for your company needs
The new website launched in July of 2015, and has seen an increase in customer interaction. To commemorate the launch of the new website, Captain Notepad is offering a variety of special deals including 25% off UPS shipping and free design and artwork set-up. Visit http://www.captainnotepad.com for more information.
About Captain Notepad (https://www.captainnotepad.com)
Captain Notepad is the leading manufacturer of customized notepads and promotional items specializing in creative solutions to help brand a company's product and grow their business. Through competitive prices and great customer service, Captain Notepad has become the best source for custom notepads. What sets Captain Notepad apart is the short production time including rush production on most of the custom printed notepads.