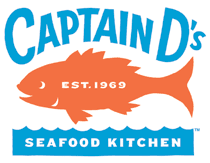 Nashville, TN (PRWEB) December 01, 2011
In an effort to increase Captain D's marketing efforts, both locally for franchisees and nationally for the brand, Phil Greifeld, CEO & President, announced the newest addition to the 527-location fast casual chain's executive team, Jonathan Muhtar. Muhtar will serve as Chief Marketing Officer.
"Our executive team has been greatly strengthened with the addition of a marketer with a highly creative, experienced, diverse background. In Jonathan Muhtar, we have found the ideal candidate to bring marketing innovation and execution to the Captain D's system," Greifeld said, noting that Muhtar will have direct responsibility for all of Captain D's marketing, research, and product development.
Muhtar most recently served as the Vice President of Global Marketing & Innovation for Burger King, Inc. In this role, Jonathan had global responsibilities for conceptualizing, developing, and executing marketing strategies for the $14 billion global QSR chain with 12,000 restaurants. He held direct responsibility for product marketing, innovation, and product development.
"I am excited to join a veteran brand that is filled with unlimited potential," he said. "This brand has a tremendous base for growth."
Prior to this position, Jonathan served as the Senior Director of New Concept Strategy & Global Development for Burger King. In this role, he led the development of the Whopper Bar as well as the BK restaurant design image of the future. His tenure at Burger King also included the positions of Senior Director of Product Marketing, Director of Product Marketing, and Manager of Product Marketing.
Prior to Burger King, Jonathan served as a Consultant with Kurt Salmon Associates. While at this consumer products business strategy firm, he developed marketing channel strategies, competitive assessments, and researched market and consumer trends for various Fortune 500 companies.
Muhtar graduated from Tulane University with a degree in Political Science and also received an MBA from Northwestern University's Kellogg School of Management.
"Throughout my career, I have had the privilege of leading restaurant marketing initiatives with a variety of brands. Captain D's is undergoing some exciting changes, and I see tremendous potential in this iconic, veteran brand," he said.
Muhtar's hire comes on the heels of a forward-moving 2011, as the brand prepares for many new marketing initiatives, product launches, Social Media interactive engagements and growth in 2012.
"This is an exciting time for the Captain D's brand. Every step we took in 2011 has prepared us for a great 2012," said Greifeld. "Jonathan Muhtar will be an integral part of our strategy development aimed and benefiting our brand and franchisees."
ABOUT CAPTAIN D'S
Headquartered in Nashville, Tennessee, Captain D's owns, operates and franchises 527 restaurants in 25 states, plus military bases around the world. Captain D's offers its customers great seafood at reasonable prices in a relaxed environment. Captain D's restaurants serve a widely varied seafood menu that includes freshly prepared entrees, and the company's signature fried fish which is freshly hand-battered and prepared to order to ensure freshness. The restaurants also offer premium-quality grilled or baked fish, as well as shrimp, chicken, an expanded selection of home-style side dishes, hushpuppies, desserts and freshly brewed, southern style sweet tea, a Captain D's favorite. Please visit http://www.captainds.com.
###