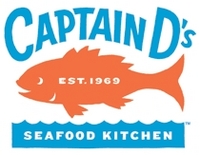 "Our brand's continued growth relies directly on the satisfaction of our customers, while our customer's satisfaction relies on the fresh, wholesome, tasteful product we deliver," said Phil Greifeld, the newly appointed CEO of the chain. "Quality is vital
Nashville, TN (PRWEB) November 17, 2010
Throughout its growth to 535 restaurants, Captain D's Seafood Kitchen's success has relied on its ability to offer its customers premium quality baked, broiled and freshly hand-battered fried fish products. Moving into 2011, the second largest quick service seafood chain in the United States will bank on much of the same.
"Our brand's continued growth relies directly on the satisfaction of our customers, while our customer's satisfaction relies on the fresh, wholesome, tasteful product we deliver," said Phil Greifeld, the newly appointed CEO of the chain. "Quality is vital to our brand's success, as our stringent controls protect both the quality and safety of our seafood."
Greifeld said growth will be two-fold in 2011, in the form of retention and new customers along with new franchisees, and both groups will continue to be engaged with the brand.
In fact, last year Captain D's Seafood Kitchen was named the Silver award-winning seafood chain in America, based on Restaurants & Institutions magazine's Consumers' Choice in Chains study. In the study, 3,000 consumers were asked to rate nearly 120 chain restaurants on eight customer satisfaction attributes: food quality, menu variety, value, service, atmosphere, cleanliness, reputation and convenience.
Captain D's menu has also been no stranger to innovation, as it continuously promotes diversity in its selection. In addition to its signature Classic, hand-battered fish, shrimp and other seafood items, Captain D's offers a host of grilled, baked or broiled specialties including Wild Alaskan Salmon, Tilapia, or Shrimp Skewers, with a choice of delicious sauces – ginger teriyaki; scampi or sweet chili sauce.
"In the new year, we will add more healthful, fresh products to our menu to meet the demands of our customer base," Greifeld said. "We are the trendsetters in seafood QSR brands and will continue to be the leaders in product development, food safety and preparation. Those qualities will help us continue our growth."
ABOUT CAPTAIN D'S
Headquartered in Nashville, Tennessee, Captain D's owns, operates and franchises some 535 restaurants in 25 states, plus military bases around the world. Captain D's offers its customers great seafood at reasonable prices in a relaxed environment. Captain D's restaurants serve a widely varied seafood menu that includes freshly prepared entrees, and the company's signature fried fish which is freshly hand-battered and prepared to order to ensure freshness. The restaurants also offer premium-quality baked or broiled fish, as well as shrimp, chicken, an expanded selection of home-style side dishes, hushpuppies, desserts and freshly brewed, southern style sweet tea, a Captain D's favorite. Please visit http://www.captainds.com.
# # #