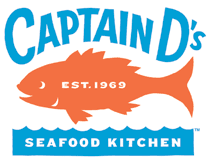 "Captain D's is very proud of the new products we're introducing." said Phil Greifeld, CEO of Captain D's. "We think our guests will be thrilled with the additions to our menu."
Nashville, TN (PRWEB) November 03, 2011
Fish stories are as old as time, but this time the fish is as big as a whale. Captain D's is stretching beyond previous fish records to offer the biggest, tastiest, most affordable fish in the market.
Captain D's wanted a fish that tastes great but at a price point that offers the best value for the size. At $4.99 with two sides and the iconic Captain D's hush puppies, the new Southern Style White Fish Dinner is a full meal that has not been seen in the industry before.
Motivated by the size of its new Southern Style White Fish, Captain D's is giving back through the new "Big Fish Inspires Big Hearts" campaign. They're asking guests to nominate their favorite charity on the Captain D's Facebook page to put them into consideration for a $1000 donation. But the giving doesn't stop there. In the spirit of tall tale "big fish stories," Captain D's will be rewarding loyal guests for telling "big fish" stories on their Facebook wall. The story that receives the most likes and comments will win free D's for a year!
This effort highlights the depth of research and experimentation efforts the company has undergone since Phil Greifeld took the helm in August 2010. Hiring top talent in the area of culinary development, Captain D's aims to significantly grow over the next two years.
"Captain D's is very proud of the new products we're introducing." said Phil Greifeld, CEO of Captain D's. "We think our guests will be thrilled with the additions to our menu."
Coming out of National Seafood Month, Captain D's continues its heritage of high quality seafood at a great value with the Southern Style White Fish, which has over 20 grams of protein and almost the entire daily recommended intake of Omega 3, leading to a nutrient-packed platter that has more to offer than just a full belly at a great price.
ABOUT CAPTAIN D'S
Headquartered in Nashville, Tennessee, Captain D's owns, operates and franchises 527 restaurants in 25 states, plus military bases around the world. Captain D's offers its customers great seafood at reasonable prices in a relaxed environment. Captain D's restaurants serve a widely varied seafood menu that includes freshly prepared entrees, and the company's signature fried fish which is freshly hand-battered and prepared to order to ensure freshness. The restaurants also offer premium-quality grilled or baked fish, as well as shrimp, chicken, an expanded selection of home-style side dishes, hushpuppies, desserts and freshly brewed, southern style sweet tea, a Captain D's favorite. Please visit http://www.captainds.com.
###