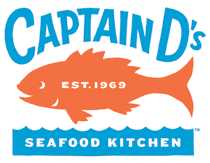 NASHVILLE (PRWEB) February 15, 2012
Never in a million years did 61-year-old Hunter Atkins, owner of 13 Captain D's as well as Chairman of Bank of Nashville, think he would end up in Hollywood, working on a film, supporting script writing, screening actors and playing a small speaking role in a film. That was until the savvy businessman started thinking about the business side of the movie industry and helped produce "Deadline", to premiere February 15, in Nashville.
"Many films are created without a business plan, a strategic plan to help market and launch a movie," he said. "With 'Deadline', all of the stars aligned. I got to work with a long-time friend, Curt Hahn (CEO of Film House Inc.), as well as play a very active role in the production of the movie."
The duo are not only connected together as friends, but also to the Captain D's brand. Atkins is the owner of 12 locations spread throughout Ohio, Kentucky and Louisiana, and Hahn created some of the first Captain D's commercials ever filmed.
"I am amazed by how small of a world this truly is," said Margo Mize, Senior Director of Local Marketing for Captain D's, noting that Captain D's is sponsoring the movie's 40 stop tour. "Hunter has an incredible vision, and Curt has been connected to D's since the beginning of our media exploration. For both to be reconnected is a true small world journey."
When Hahn approached Atkins about investing in the movie, Atkins had two rules. First, the movie's production had to start right away, as Atkins felt the story was too powerful to sit on. Second, Atkins wanted to be a 50 percent investor.
"I told Curt the rules. I didn't want to be a minority investor. I wanted to put a lot of skin in the game to force myself to take a very active role in the movie," he said.
"Deadline" is the new movie directed by Hahn. Inspired by a true story, the movie stars Steve Talley and Oscar nominee, Eric Roberts, as reporters investigating the murder of an African American youth in rural Alabama that has gone uninvestigated, unsolved and unpunished for almost twenty years. Additionally, Executive Producer Atkins also played a small role as a car mechanic named Ray.
"Trust me, I did not get involved with the movie to play a role," he laughed. "The local casting director came up to me and asked how old I was. I said 61. She said, 'Great, you are playing Ray.'"
Atkins said he was more focused on creating great business plans to take a small budget movie and make it big. Rather than opening the movie over a weekend, Atkins and Hahn created a movie tour, in which the movie will open in 40 cities over the course of two months (concluding in Knoxville on April 20). Additionally, the "Deadline" team connected with newspapers all over the country to co-open the movie.
"We wanted to approach the distribution of this movie differently," Hahn said, noting that the first stop on the tour is February 15 in Nashville. "We wanted to build a movie that could develop a following by becoming deeply ingrained in the communities we visit and build strong ties with the local media, as the media is a focal part of our story."
To support the tour, Hahn and Hunter enlisted Captain D's, which, according to Hahn, was a natural fit for a sponsor as the brand is deeply tied to the producers of the movie. "Partnering with Captain D's as our primary sponsor made great sense, especially with both myself and Hunter having ties back to the brand," he said. "There is so much history and connection to the brand."
Atkins credits a lot of his business planning for the movie to his experience as a franchisee and a banker.
"Over the last 35 years, I have very closely studied building relationships through both my banking and franchise careers. Much like business, we are taking a very calculated approach to creating buzz for this movie. I am very proud of what we have accomplished already," he said.
ABOUT CAPTAIN D'S
Headquartered in Nashville, Tennessee, Captain D's owns, operates and franchises 527 restaurants in 25 states, plus military bases around the world. Captain D's offers its customers great seafood at reasonable prices in a relaxed environment. Captain D's restaurants serve a widely varied seafood menu that includes freshly prepared entrees, and the company's signature hand-battered fish which is prepared to order to ensure freshness. The restaurants also offer premium-quality grilled fish, as well as shrimp, chicken, an expanded selection of home-style side dishes, hushpuppies, desserts and freshly brewed, southern style sweet tea, a Captain D's favorite. Please visit http://www.captainds.com.
ABOUT DEADLINE
Steve Talley and Academy Award nominee Eric Roberts star in Deadline, the story of the murder of an African-American youth in rural Alabama that has gone uninvestigated, unsolved and unpunished for almost 20 years. Inspired by a true story, Deadline is adapted from Mark Ethridge's novel Grievances. Deadline is directed by Curt Hahn and produced by Transcendent and will be released in theaters nationwide in 2012. For more information, please visit: http://www.deadlinefilm.com
###