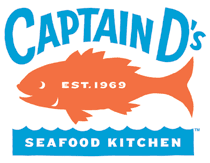 The introduction of the cod and chicken sandwiches with big and bold flavors allows us an opportunity to connect with a younger demographic while positioning ourselves as a legitimate player in the sandwich category.
- Monte Jump
Nashville, TN (PRWEB) June 20, 2011
Continuing its effort to advance its menu options and appeal to different demographic groups, Captain D's Seafood Kitchen is launching a new sandwich line to provide more variety and exciting new choices for consumers. Starting June 13, Captain D' s will roll out six new customizable sandwiches to its guests in participating markets across the country.
The newly introduced cod and chicken sandwiches come with a variety of big, bold flavor selections to satisfy the cravings of any Captain D's customer. Guests can choose between crunchy, panko breaded, North Pacific Cod or crispy breaded whole breast white meat chicken topped in one of three new signature styles: spicy bayou with remoulade and crispy onion straws, bacon ranch with savory ranch and crunchy bacon and southwestern with zesty baja sauce and pico de gallo.
"The new sandwiches were developed to take our product lines to the next level," said Phil Greifeld, CEO of Captain D's Seafood Kitchen. "The D's brand continues to lead in our category niche, but with the booming sandwich market and the consumer's interest of portability, we believe that we can garner additional market share by adding another component to our menu."
The Captain D's menu offers a wide variety of fried, grilled or baked fish, shrimp and chicken dishes, salads, regional seafood favorites, as well as several side options and desserts. Now, Captain D's is elevating its brand in the fast-casual industry by providing a wider array of options packed with exciting new flavor profiles for its guests on the go.
"The new cod and chicken sandwiches were carefully crafted to pair recognizably premium proteins with compelling flavor profiles," said Peter Gibbons, vice president of Product Development. "It has been thrilling to add a new element to our menu, and I feel confident that our guests will love the product that we have crafted."
Not only is Captain D's rolling out customizable menu items for their guests to pick and choose based on their favorite flavor sensations, but the brand is reaching into the realm of Social Media to bring the product straight to the customer. By visiting the Facebook page and clicking the 'like' button, for a limited time, fans will be able to receive a free Cod or Chicken Sandwich to try out the new menu item first hand.
"The introduction of the cod and chicken sandwiches with big and bold flavors allows us an opportunity to connect with a younger demographic while positioning ourselves as a legitimate player in the sandwich category," said Monte Jump, executive vice president of Marketing.
Check out the new sandwiches here: http://www.captainds.com/tvcommercials/
About Captain D's
Headquartered in Nashville, Tennessee, Captain D's owns, operates and franchises 527 restaurants in 25 states, plus military bases around the world. Captain D's offers its customers great seafood at reasonable prices in a relaxed environment. Captain D's restaurants serve a widely varied seafood menu that includes freshly prepared entrees, and the company's signature fried fish which is freshly hand-battered and prepared to order to ensure freshness. The restaurants also offer premium-quality grilled or baked fish, as well as shrimp, chicken, an expanded selection of home-style side dishes, hushpuppies, desserts and freshly brewed, southern style sweet tea, a Captain D's favorite. Please visit http://www.captainds.com.
###