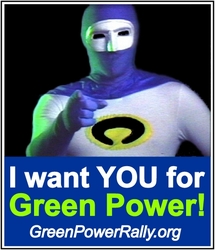 Green Power can make every nation energy self-sufficient, eliminating wars over limited supplies of foriegn oil. Green Power can literally create a cleaner, healthier and more peaceful world - a more civilized world!
Bellingham, WA (PRWEB) April 26, 2010
Captain Ozone allegedly started the modern-day "real-life superhero" movement when he made his debut in 1989. He's considered by many to be the most phenomenal environmental activist of all time.
The masked man claims to be from the year 2039 and he time traveled to 1989 on a mission to save us from an ill-fated future.
Captain Ozone is saving endangered species, promoting renewable energy and ecological art, and also teaching school kids how to become environmental activists on television.
Captain Ozone and Environmental Media Northwest are also leading the BIGGEST peaceful demonstration for renewable energy ever! It's called "Green Power Rally" and it's going to take place in many cities throughout the United States and Canada on July 31st, 2O1O. All are invited to participate!
Green Power Rally is not a cynical "up in arms" protest against the fossil fuel or nuclear power corporations. It's an optimistic, peaceful demonstration to raise public awareness and support for zero-emissions energy sources such as solar, wind, geothermal and hydro power.
Captain Ozone wants America to be the vanguard of the Green Power revolution and he's all for Obama's New Energy for America plan. To become a peaceful demonstrator for Green Power Rally, go to http://GreenPowerRally.org and follow the easy step-by-step instructions.
To view a video documentary about the caped crusader's deeds, go to:
http://video.google.com/videoplay?docid=8597011024457745958#
News coverage for Green Power Rally will help us gather many demonstrators and we appreciate any news about this event!
Listed below are nine other famous real-life superheroes who are leading their own Green Power Rallies in major cities throughout the United States and Canada.
Real-life Superhero Contacts:
Captain Ozone
http://MySpace.com/CaptainOzone
Seattle, Washington
Amazonia
MySpace.com/Amazonia_RLSH
Ocala, Florida
Kiki the Eco Elf
MySpace.com/KikiTheEcoElf
The Okanagan, Canada
Mr. Jack
MySpace.com/UbiquityInMotion
Portland, Oregon
The Conundrum
MySpace.com/521216373
Philadelphia, Pennsylvania
Geist
MySpace.com/Superhero_Geist
Minneapolis, Minnesota
RazorHawk
MySpace.com/RazorHawk_GLHG
Minneapolis, Minnesota
The High Peacestess
MySpace.com/FunkyEcoFashion
Hawaii, USA
Scavenger
MySpace.com/ScavengerRLSH
Waterbury, Connecticut
Runebringer
MySpace.com/Runebringer
Waterbury, Connecticut
Non-profit Organization Contact:
Mr. Michael L. Schutte
President
Environmental Media Northwest
emnw.org
(360) 676-7626
Green Power Rally
http://GreenPowerRally.org
###