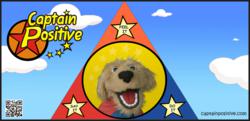 "Kids and parents alike will benefit from the new "Happy City" video. It's a fun video that shows us the importance of our word choices. Happy words lead to happy thoughts, happy thoughts lead to happy actions." Stephanie Merchant The Nutrition Mom
San Diego, CA (PRWEB) September 25, 2012
Positively Kids just announced the release of "Happy City" the newest You Tube video clip of Captain Positive. Positively Kids is set to release the highly anticipated DVD "Be Happy" towards the end of 2013. "Happy City" is a clip from inside the "Be Happy" DVD where Captain Positive talks to kids and adults about what words make them happy. By teaching kids to think about happy words when their day isn't going right, or they need a boost, they are learning a valuable lifelong lesson; just by the power of thought they can change the way they feel. Barbara J. Feldman syndicated columnist and publisher of Surfnetkids.com states "Where is Happy City? It's anywhere you are when you remember to focus on thoughts that make you happy. What a great lesson to teach our kids!"
A recent article from Psychology Today states "As far as your brain, every thought releases brain chemicals. Being focused on negative thoughts effectively saps the brain of its positive forcefulness, slows it down, and can go as far as dimming your brain's ability to function, even creating depression. On the flip side, thinking positive, happy, hopeful, optimistic, joyful thoughts decreases cortisol and produces serotonin, which creates a sense of well-being. This helps your brain function at peak capacity." To read the full article click here on Psychology Today.
Positively Kids teaches children to find their own happiness through positive words and actions. Founder of Positively Kids, Stacey Crumrine states "We all want our kids to be happy. But no matter what we do there will be times they will be sad, mad, frustrated and anxious. It's our job as parents to show them ways they can feel better. Change their mood. Release frustration. This is what choosing to be happy is all about." A positive attitude and mindset are incredibly valuable, especially at an early age. Training children to think positively will give them an advantage in almost all that they do in life. Positively Kids, through their lovable character Captain Positive teaches kids how to view life from a positive perspective and in the process instill in them a high level of self-esteem and self-empowerment. Erika McDaniel, Founder of Consciousparents.org states, "As a passionate advocate and teacher of the universal principles to both parents and children, I absolutely love Captain Positive's mission. He introduces the powerful universal law of vibration (a.k.a. law of attraction) into a fun, usable, tangible lesson for children and parents alike. Humans have an incredible ability to shift their experience consciously, and what better time to learn this concept than when you are a child! "
Until now, Positively Kids has just given glimpses of Captain Positive in several of their music videos "The Positive Patter" and "Happy Boogie". "Happy City" is the first time they are showing him interacting with adults and children to share what a dynamic, charismatic, fun and engaging of a character he truly is. Stephanie Merchant "The Nutrition Mom" says "Kids and parents alike will benefit from the new "Happy City" video. It's a fun video that shows us the importance of our word choices. Happy words lead to happy thoughts, happy thoughts lead to happy actions.
Founded in 2010 in San Diego by mom Stacey Crumrine, Positively Kids brings parents, caregivers, and educators many tools that they can give to the precious little minds for maximum positive impact. Positively Kids weaves its "Captain Positive" character, the super-hero of positive thinking, through games, CDs and DVDs like "Captain Positive: Be Happy", as a means of preparing kids for the years and challenges ahead and arming them with a positive attitude to carry throughout their lives. The "Captain Positive" products use a fun eclectic musical collection that parents and kids both love, all while delivering positive messages and teaching the power that positive thinking can have throughout their lives.
You can find the Happy City video on YouTube http://www.youtube.com/watch?v=OcEfgSJe18o&feature=youtu.be
To learn more about Positively Kids visit: http://www.positivelykids.com or visit their Facebook page at …… https://www.facebook.com/positivelykids.dvd