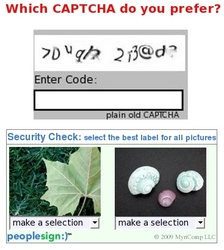 Thousand Oaks, CA (PRWEB) April 29, 2009
It's not necessary to read a single word of this press release; the picture attached is worth a thousand words. That old saying inspired the creation of peoplesign, the security innovation featured in the picture.
peoplesign is a photo CAPTCHA web service and is now available free to the public (as a beta release) at peoplesign.com. A live demo is also available on the site. The rest of this text briefly explains CAPTCHAs then goes on to cover peoplesign.
Nearly everyone online has seen a text CAPTCHA even if unfamiliar with the term CAPTCHA. Text CAPTCHAs challenge website visitors to type in distorted characters shown in an image. In short, these challenges exist to filter out bots designed to post spam or abuse the site (a deeper intro to CAPTCHA can be found on Wikipedia.org).
Unfortunately, spammers can now create bots capable of effectively passing text CAPTCHAs using refined character recognition algorithms. In response websites have adopted increasingly distorted text CAPTCHAs. However, the distortions reduce recognition for people as well. The result is frustrated visitors, an increase in abandoned forms and missed opportunities for websites.
Enter peoplesign. A peoplesign challenge asks a visitor to pick from a list the best label for a photo of a common object. Currently, the labels are English phrases. A sample picture might feature 3 sea shells, and the correct label may simply be "sea shells" or "three objects". This format is easy for people to pass and more inviting than the standard CAPTCHA eye exam.
In contrast, peoplesign represents a more durable barrier to bots compared to a text CAPTCHA. Reliably passing peoplesign requires a combination of advanced object recognition and natural language processing. Science has yet to fully map out how the human mind acquires and performs these skills. Endowing these skills to a computer system is still an open research area of computer science.
If a peoplesign pick-the-label photo CAPTCHA is superior to text CAPTCHAs, a natural question is why hasn't it been done before. The interface and infrastructure of peoplesign are indeed straightforward; however, the concept requires a sufficiently large, readily scalable private database of suitable photos and labels in order to be secure. Fortunately, peoplesign is built on such a database. The techniques used to build the database are the result of lengthy, focused research by MyriComp LLC.
The creator of peoplesign, David B Newquist, has also focused on making it a practical, accessible solution for web developers working on a variety of platforms. peoplesign plugins are immediately available for PHP and Joomla Community Builder with more in development. The plugins allow a site to access the peoplesign web service and display a peoplesign challenge to visitors. The appearance of the challenge is customizable, with options for the number of photos, complexity of the labels, and even adding an underwater effect for photos. "These options allow a site to reach an appropriate balance between security against bots and ease for visitors. A big target like Google, Microsoft or Yahoo! mail registration or Ticketmaster demands more security than a small user discussion forum. There are focused adversaries targeting the former whereas the later is generally dealing with less sophisticated bots trolling for any unprotected form," says Newquist. The plugins allow multiple locations on a site to be protected by peoplesign, and each location can be customized appropriately.
Hopefully, a peoplesign picture will prove as valuable as a thousand words, assuming those words are written in squiggly CAPTCHA characters.
###