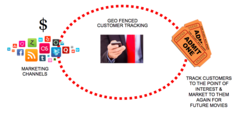 The power of Mobile as a Platform (MaaP) through Captive Reach keeps customers fully informed of any new film releases time and time again, saving the distribution company time and money.
San Diego, CA (PRWEB) May 31, 2013
Parallel 6, a creative mobile technology firm, has created Captive Reach for Entertainment, an enterprise mobile technology platform, as a solution for entertainment distribution companies to recapture billions of dollars in their marketing budgets. Instead of spending money trying to remarket to movie fans film after film or show after show, entertainment companies now have access to powerful data collected from uniquely branded mobile apps.
The data collected from Captive Reach directly helps entertainment distribution companies accurately measure their marketing efforts and its actual impact at the box office.
"The power of Mobile as a Platform (MaaP), especially in the entertainment industry, cannot be underestimated," explains David Turner, CEO and president of Parallel 6. "Since web traffic is increasingly coming through mobile apps, we've designed Captive Reach as a solution to keep entertainment brands close to their consumers- in the palms of their hands. This strategic placement keeps them fully informed of any new film releases time and time again. Instead of wasting money to reactivate interested customers, our platform saves the distribution company time and money."
Each year, movie distribution companies lose billions of dollars in their marketing budgets by failing to capture and keep the demographic and contact information of their movie-going customers after premiers. But uniquely branded Captive Reach mobile apps utilize geo-fenced customer tracking to give entertainment brands the constant access to their fans and the ability to build that database at no additional cost.
As mobile app downloads increase, the mobile app itself serves as a new channel of revenue for the brand and a source to continually gain geographic, social, competitive and consumer insights. This data helps increase the efficiencies of marketing efforts and shows how many people are actually showing up to the box office.
Captive Reach for Entertainment is created for clients in the United States, Latin America and Asia Pacific. The mobile technology can be a branded solution for each client or easily integrated with an existing mobile application. For more information about Captive Reach and to request a demo, please contact (619) 269-1063.
About Parallel 6:
Parallel 6, a creative enterprise mobile technology company, is the creator of Captive Reach, an all-encompassing enterprise mobile platform. Captive Reach influences consumer behavior, enhances brand recognition and builds strong client-customer relationships. With mcommerce, geo-located content management, pocket insights, gamification, image recognition and augmented reality, Captive Reach is the mobile strategy that allows brands to engage and activate their loyal consumers through the palm of their hand. Parallel 6 serves a wide array of B2B and B2C companies including retailers, daily deal companies, hotels, e-commerce, publishers and professional service firms around the globe. The firm is based in San Diego with development offices in Mexico, Ukraine and China. For more information, visit http://www.parallel6.com.