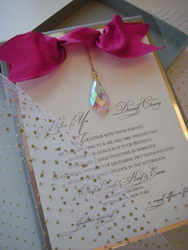 "being on a budget doesn't mean you have to forfeit style and elegance"
San Pedro, CA (PRWEB) July 22, 2010
When Embellishments owner, Trisha R. Caal, set out to start her custom designed invitation business, five years ago, the market demanded luxurious, over-the-top designs. Today, however, the market has changed. Customers still want luxury, and they still want a high quality product, but they want it for less—a lot less. So as more and more of Caal's customers turned to her for cost-effective alternatives to her high end custom designed invitations, she knew it was time for change.
In 2009, in order to meet her customer's growing needs, Caal opened a new branch to her business called Captured Hearts. It is the first company to offer upscale, pre-designed, affordable embellished invitations. Instead of hiring someone to custom design and package invitations, couples "save big" by purchasing a set of pre-designed invitations that they can then print, assemble, address, and mail them from the comfort of their own homes.
'In a down economy, there's a lot of instability," says Caal. "Yet, people are seeking stability and one way they do that is by hosting smaller, more economical events. They're seeking comfort and stability through more affordable events. And they're focusing on togetherness and humility—not extravagance or the overall magnitude of an event."
"Being on a budget doesn't mean you have to forfeit style and elegance," Caal continues. "It was the perfect opportunity to help my customers find a balance between their dreams and their budgets, and I couldn't be more pleased with the outcome."
Virginia Villaseñor, one of Caal's customers says, "We have a large family and we host many events. We needed a company that could meet our needs, but save us money, too. When we ordered invitations from Captured Hearts we loved her designs, but were worried about printing and assembling them ourselves."
"We had nothing to fear," Villaseñor continues. "Instructions were easy to follow and the quality was absolutely fabulous. It's a great product at a great price."
For a touch of elegance at a great value, give Captured Hearts a try. There are low order minimums and each package includes all the materials necessary for creating the perfect invitations.
For more information, contact Caal or Captured Hearts at (310) 832-8828 or visit her online at http://www.shopcapturedhearts.com
###