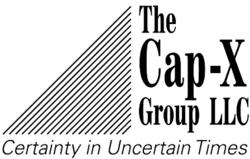 We are able to level the playing field for our clients to make educated risk management decisions using the same information that the Equipment manufacturers have at their disposal.
Leesburg, VA (PRWEB) May 19, 2011
The Cap-X Group, LLC (CXG) has announced the appointment of Kirsten Roy Vice President of Business Development, effective Thursday, May 19th , 2011. Lawrence M. Stanley, Managing Partner and Founder, launched and developed The Cap-X Group in 2007 and commented, "Ms. Roy brings a substantial amount of experience in management and consulting in both multi specialty physician practices and hospital settings. The reorganization and expansion in senior management has been made as a continuation of the company's aggressive expansion in streamlining multi service contracts for Medical facilities Nationwide and to better assist with managing these costs for years to come. Ms. Roy's experience will enable us to develop and expand this component of our core business."
Ms. Roy received her Bachelor's Degree from Virginia Tech and her Master's Degree from the Medical University of South Carolina in Health Administration. She has over fifteen years of Health Care industry experience. In addition to other senior positions in medical management, from 1996 through 2010, Ms. Roy holds a Certification by The American College of Medical Practice Executives and has been a long standing member of The Medical Group Management Association (MGMA)- since 1996.
Ms. Roy will work out of the South Carolina office and will report directly to Lawrence Stanley President and Managing Partner of The Cap-X Group, LLC. As Vice President of Business Development for CXG Medical ™ Ms. Roy will oversee the divisions' strategic planning and sales efforts and will continue participating in numerous professional associations in the healthcare industry to promote the values of equipment maintenance management as a cost effective way of controlling costs associated with overpriced OEM and Third-Party maintenance contracts. Ms. Roy remarked, "I am very excited about the opportunity to provide health care organizations with a valuable service while assisting in their cost containment strategies during these challenging economic times."
THE CAP-X GROUP, LLC (CXG) provides comprehensive Equipment Maintenance Management Programs for Hospitals & Healthcare Providers, Financial Institutions, Government Agencies, Colleges and Universities, Grocery Stores, and Commercial Operations. CXG specializes in providing quality service, technical resources, innovative management systems, and financially secure solutions. THE CAP-X GROUP does not repair or maintain equipment; however, CXG does provide its customers with the tools and support necessary to reduce their maintenance budget while improving equipment performance. http://www.capxgroup.com
###