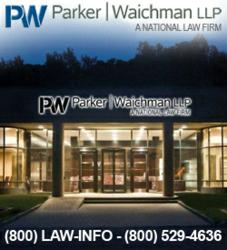 Texting while driving has become, in the words of Transportation Secretary Ray LaHood, a 'national epidemic.'
Port Washington, New York (PRWEB) May 06, 2013
Parker Waichman LLP, a national law firm dedicated to protecting the legal rights of car accident victims, is alarmed about new findings showing that a significant number of teenagers have texted while driving. On May 6, 2013, Science World Report* reviewed findings from a study showing that at least 43 percent of high school students of driving age text at least once while driving. As a national personal injury law firm with years of experience representing car accident victims, Parker Waichman LLP warns that texting while driving is a dangerous habit that can lead to serious, even deadly consequences.
"It's startling to find out that such a large population of high school students are texting while they drive," says Gary P. Falkowitz, a Managing Attorney at Parker Waichman LLP. "Many teenage, and even adult drivers, may not realize how much this risky behavior can increase your risk of getting into a serious car accident."
According to Science World Report, the study was presented on May 4, 2013 at the Pediatric Academic Societies (PAS). Alexandra Bailin, principal investigator and research assistant at Cohen Children's Medical Center in New York, stated that "Texting while driving has become, in the words of Transportation Secretary Ray LaHood, a 'national epidemic.'" Reportedly, the risk of getting into a car accident is 23 times higher while texting and driving. "Although teens may be developmentally predisposed to engage in risk-taking behavior, reducing the prevalence of texting while driving is an obvious and important way to ensure the health and safety of teen drivers, their passengers and the surrounding public," Bailin stated.
The study used information from the 2011 Youth Risk Behavior Survey to collect data on 7,833 high school students who were eligible for a driver's license. Researchers found that males were more likely to text while driving, and that those who texted while driving were more likely to engage in other risky behaviors such as drinking and driving, having unprotected sex and using tanning beds. Additionally, the researchers found that texting increased with the age of participants; 46 percent were older than 17 years and 52 percent were over 18 years of age.
*http://www.scienceworldreport.com/articles/6656/20130506/nearly-43-percent-teens-text-driving-study.htm
Parker Waichman offers free legal evaluations to the victims of car accidents in Long Island, New York, New Jersey, Florida and nationwide. If someone you love was injured in a motor vehicle crash, please visit our car accident lawsuit page at yourlawyer.com. Free lawsuit evaluations are also available by call 1-800-LAW-INFO (1-800-529-4636).
Contact:
Parker Waichman LLP
Gary Falkowitz, Managing Attorney
(800) LAW-INFO
(800) 529-4636
http://www.yourlawyer.com