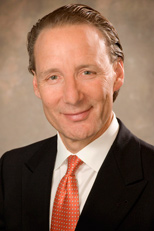 This trend can be reversed if Illinois drivers take some simple steps that help to ensure safe driving.
Chicago, IL (PRWEB) February 13, 2013
Chicago car accident lawyer Patrick A. Salvi said today that Illinois Department of Transportation (IDOT) statistics showing more than two car crash deaths a day since January 1 is an alarming start to the year.
"According to IDOT, the car accident fatality rate for 2013 is already well ahead of 2012 barely over a month into the new year," said Salvi, the managing equity partner of Salvi, Schostok & Pritchard P.C., a personal injury law firm serving Chicago and Illinois.
"This trend can be reversed if Illinois drivers take some simple steps that help to ensure safe driving," he said.
According to IDOT, as of February 11 – the 42nd day of the year – there had been 75 fatal car crashes leading to 92 deaths in 2013. By February 11, 2012, there had been 81 fatalities in Illinois car accidents for the year, IDOT shows, meaning 11 additional car crash fatalities recorded so far this year.
Salvi's firm investigates Illinois car accidents and pursues personal injury and wrongful death lawsuits on behalf people who have been injured or lost family members in crashes.
"The first and simplest thing drivers can do to protect themselves in case of a car accident is to wear their seatbelts," Salvi said. "They should also remember to use child safety seats and take the time to buckle them in correctly."
IDOT's website said restraint was either not used or improperly used in 25 of the fatal crashes reported as of February 8.
Salvi also suggested that drivers drive defensively, refrain from using cell phones or other electronic devices behind the wheel, slow down in work zones, designate a sober driver if they have been drinking and wear proper helmets and other protective gear while motorcycling.
IDOT's annual Crash Facts and Statistics publication for 2011 (the latest available), shows 281,788 crashes involving motor vehicles on Illinois roadways in 2011. It says 918 people died in 835 crashes in Illinois during 2011, and an additional 84,172 were injured in motor vehicle wrecks.
The fatality rate in 2011 was slightly lower than in 2010, during which 927 people died in 858 car crashes in Illinois, according to IDOT. More people (88,937) were injured in car crashes in Illinois in 2010 compared to 2011.
"Individual drivers should do what they can to ensure the safety of other drivers and pedestrians around them," Salvi said. "And when someone has been hurt in a car accident that was not their fault, they should seek legal consultation to see to it that their rights are protected."
Salvi said injured drivers can seek payment for medical expenses, lost wages and other costs after a car accident. Families can seek compensation if a loved one has been killed in a car wreck that was not their fault.
About Salvi, Schostok & Pritchard P.C.
Salvi, Schostok & Pritchard P.C. is a leading Chicago personal injury firm with offices in Chicago (22 West Washington Street, Suite 1600, Chicago IL 60602) and Waukegan (218 North Martin Luther King Jr. Avenue, Waukegan, IL 60085). In addition to representing clients in catastrophic personal injury, medical malpractice, aviation and product liability cases, the firm focuses on car and truck accidents, airplane and train accidents, construction injuries, birth injuries, brain injuries, unsafe properties and animal attacks. The firm has obtained more than $640 million on behalf of its clients in personal injury and wrongful death cases, including 190 multi-million dollar verdicts or settlements. For more information, call (312) 372-1227 or use the firm's online contact form.