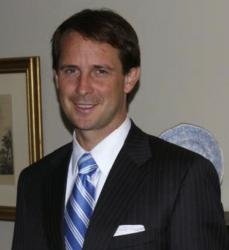 Atlanta, GA (PRWEB) March 27, 2012
As a personal injury and car accident attorney, Atlanta local Christopher Simon has garnered attention for his skill in the courtroom and his dedication to clients. Over the past few years he has been recognized as a rising star in the legal field, but his recent selection to the list of Georgia Super Lawyers for 2012 firmly places him among the state's elite legal professionals.
Every year, a research team formed by the Thomson Reuters Legal division in Eagan, Minn, selects only the most deserving attorneys to be named Super Lawyers in their respective states. Only five percent of the practicing professionals in each state are named to this esteemed list.
Using a rigorous, multiphase rating system, the research team uncovers the absolute cream of the crop in a given state. To be selected, Mr. Simon needed nominations from colleagues, excellent scores on a 12-point achievement evaluation, and positive findings from third-party research. Without a high level of respect from peers, impressive performances in the courtroom and an unparalleled ethics record, this honor would not have been possible.
The results speak for themselves in Mr. Simon's history as a personal injury and car accident attorney. Atlanta injury victims and clients around the state have won numerous verdicts and settlements thanks to his legal acumen. The Simon Law Firm has secured $14.2 million for their clients in the last four years alone.
The goal of the Super Lawyers research team is to create a comprehensive, reliable directory of the top legal minds in America. It is an invaluable resource for consumers in need of legal counsel, as well as attorneys looking to network and connect with the leaders in their profession. By selecting Mr. Simon, the researchers have said that he has earned the right to play an influential role in Georgia's legal community.
Mr. Simon has reached elite status at a very young age. That early success led to another prestigious award in 2012. Earlier this year he was bestowed the honor of being named one of the Top 40 Lawyers Under 40 by the National Trial Lawyers organization. Inclusion in this list is by invitation only and candidates must have impressive trial results and leadership skills. Mr. Simon has demonstrated both in his time as a personal injury and car accident attorney. Atlanta residents can rely on the Simon Law Firm to handle their case.
Holding two prestigious titles puts Simon in truly elite company. As an Atlanta tractor trailer accident attorney, Mr. Simon is also nationally recognized as one of the bright legal minds in the country. The Simon Law Firm has garnered over $14.2 million in verdicts and settlements since 2008.
Mr. Simon's national honors started a few years ago when he was voted onto Georgia Trend Magazine's "Legal Elite" list in 2009 by his peers. That year also marked the first time he was named a Rising Star by Super Lawyers Magazine. This honor was repeated in 2010 and again in 2011.
About The Simon Law Firm:
Christopher Simon practices as a personal injury and tractor trailer accident attorney. Atlanta based Simon Law Firm represents the victims of serious accidents throughout the State of Georgia. Mr. Simon and his partner, Charles Trip Johnson, give no-nonsense legal advice backed by over 35 years of combined trial experience. When you call, you will speak directly to an attorney, not an assistant. To contact his office go to http://www.christophersimon.com, call 1-866-295-8231, or visit his office at 3535 Piedmont Road, Building 14 Suite 410, Atlanta, GA 30305.