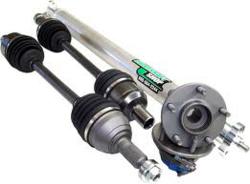 The used market is one of the most plentiful when it comes to finding parts for nearly all makes and models.
Midland, Texas (PRWEB) April 18, 2013
Routine maintenance for automobiles, trucks and SUVs is usually required to ensure that all parts are operational for working vehicles. Locating replacement parts can be a time consuming process for harder to find parts types. The axlesanddifferentials.com company specializes in providing axles for nearly all makes and models and has now increased the size of its car axle inventory online. These new axles can be researched and pricing information is available on the company homepage.
The secondary parts market is typically a resource that is used by buyers searching for discounted parts. The used market is one of the most plentiful when it comes to finding parts for nearly all makes and models.
One drawback that a buyer often faces when purchasing used parts is the amount of wear and tear that is on each component. The axles that are now added for sale online includes used, OEM, performance and aftermarket editions to help buyers choose the right condition part for the right installation.
The AxlesandDifferentials.com website has recently been updated to reflect new types of inventory for buyers online. Aside from the car axles and other accessories, this company has expanded its four-wheel drive differential inventory this year.
Parts that fit directly into Jeep, Toyota, General Motors, Dodge and Ford have been added on a regular basis. These differentials and axles are offered to buyers for reduced pricing to help build long-term customer value.
About AxlesandDifferentials.com
The AxlesandDifferentials.com company is a leading supplier of various condition axles and differentials that are replaced in vehicles. This company supplies its inventory to buyers in the trade industry as well as to the general public. This price structure selected for online and offline sales at this company has kept buyers returning to the company over the past three years online. The AxlesandDifferentials.com company offers more than one part type for the various makes and models that are produced by automakers in effort to supply one of the largest replacement parts inventories now searchable online.