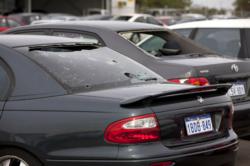 A more thorough inspection of the "perfect car" turned up rust where there shouldn't be, especially in a car so new, as well as moisture stains in the carpeting and visible water lines in the engine compartment and trunk.
Atlanta, GA (PRWEB) May 19, 2011
Leadsbyfone is a marketing and lead generation company servicing the water damage and basement flooding cleanup industry. This release is for informational purposes only, Water Damage Local does not repair water damaged vehicles.
Rena Michelle of Little Rock, AR thought she had found the dream car, a slightly used, 2010 Chevy Impala, the perfect choice for her and her three children. She did the ubiquitous test drive and walk around… so far, it looked good. Then, following the advice of her neighbor, she took the car to a local mechanic to have it checked out, a decision she is now very glad she made as the car had water damage.
A more thorough inspection of the "perfect car" turned up rust where there shouldn't be, especially in a car so new, as well as moisture stains in the carpeting and visible water lines in the engine compartment and trunk. Digging into the vehicle's title history revealed the culprit….the car had been caught up in some local area flooding months before, suffering major water damage and requiring considerable repair to correct. The decision to have a pre-purchase inspection performed saved Ms. Michelle thousands of dollars in near future repairs and improvements.
Rena Michelle is one case, however with the recent record flooding across much of the southeastern US, it's a sure bet that many cars just like this one will be cropping up on dealership lots. While dealers are required by law to disclose if a car has had previous damage, the fact is that unscrupulous dealers are as plentiful in the automotive world as fleas on a dog, and just about as annoying.
These bottom feeders of the industry know that a car can be repaired, appear as good as new, and be sold for an attractive profit as the result of buying the vehicle initially as a low cost salvage title. The result is a classic case of "buyer beware" when shopping for your next automobile.
Don't become the secondary victim of somebody else's misfortune. Once a good vehicle is found, ask questions. Hard ones. Make sure the auto dealer is open with the vehicle's history. Don't be afraid to crawl all over it, or through it, or under it, or whatever it takes. Drive the car more than once. Look for signs that the vehicle has a questionable history, such as water in the intake, stains under the spare tire, or grass and mud under the hood (if that alone doesn't reveal something is amiss, nothing will).
And even if the car appears okay on all counts, just when the dealer thinks he has sold it, postpone buying it until a trusted mechanic gives it a thorough inspection and his approval. Legitimate dealers will have no problem with this. However, if the dealer hesitates, get up, walk out, and don't look back. It just became obvious that he has something to hide.
Follow these common sense rules to avoid getting stuck with a flooded out lemon.
1) Always purchase from a reputable dealer. A large scale, national franchise dealer is always a better choice than some outfit called "Klassy Kars" with half the words on their outdoor sign misspelled.
2) Look carefully for any signs of damage such as dents, dings, water stains, mold damage….if something doesn't look right, chances are it isn't.
3) Have the car checked out by a qualified mechanic. Yes, it will cost a few bucks, but that's nothing compared to having to prop up a cleverly disguised junker and be stuck with it for the next three or four years.
4) Inquire about the vehicle's history. Ask a lot of questions. If the guy on the other side of the desk breaks a sweat, keep prodding, there is something hidden.
5) Do a title search. This can reveal much, especially if the word "salvage' appears anywhere on the title.
6) Look for water lines along the sides of the doors. This is clear, indisputable evidence of just how much water was in this vehicle's history.
7) Discover the power of the word "no". Don't be fooled by the auto dealer because "well, yes, it has some history but it's such a DEAL!". Let no be no, thank them for their time, and then walk straight out.
Yes, Virginia, there is a Santa Claus, and there are also auto dealers looking for easy prey to scam. Behind every perfect price is a hidden issue, one that the dealer would ideally prefer the buyer didn't find out about until he/she has had the car in his/her garage for a few weeks. Buying a car is a challenge, and can be quite a hassle, but the steps above should ensure that a car has a clean background and is generally a smart buy. Good luck car hunting!
Water Damage Local does not do cars, but in the event of water damage to a home or business, contact the professionals at http://www.waterdamagelocal.com/.
About the author:
Billy D. Ritchie, Content Manager
Leadsbyfone, LLC
# # #