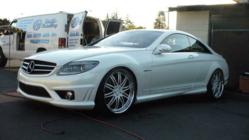 This invitation is timely because I have met people that still love their cars and have no time to clean them and giving one business card to a person won't help the rest
San Jose, CA (PRWEB) November 17, 2011
JB Mobile Detailing in San Jose is expanding its business to better meet the needs of current and potential customers. Its new service is designed for employees of large corporations who have little free time. JB Mobile Detailing will visit a company and detail employees' cars to save them time.
"This invitation is timely because I have met people that still love their cars and have no time to clean them and giving one business card to a person won't help the rest," says Jose Najera of JB Mobile Detailing.
JB Mobile Detailing uses green, biodegradable products. Its San Jose car detailing experience has taught them that using quality cleaning products makes all the difference. They use the best auto detailing compounds, polishes and waxes to treat a car's finish and result in a proper cleaning.
They are self-contained, which means that they do not need anything from clients - only their car and keys. They can book appointments for car detailing through email and take care of the billing as well.
"Since I know JB, I don't have to worry about keeping my car clean and having to check for quality," said one satisfied customer of JB Mobile Detailing.
JB Mobile Detailing is located at 412 Fullerton Drive, San Jose, CA 95111 and can be reached at 408-663-2136. For more information on JB visit http://www.jbmobiledetailing.com or http://www.cardetailingsanjose.com.
About JB Mobile Detailing
Having worked on thousands of cars in San Jose over the years, from exotic sports cars to daily drivers, JB Mobile Detailing has gained invaluable experience on how to provide the most effective auto detailing to make every vehicle shine. They've cleaned vehicles with months of grime and dirt, removed graffiti from vandalized vehicles, and clean interiors with spills and smells.
###