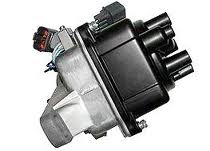 This company is now discounting its car distributor units for all buyers.
Tacoma, Washington (PRWEB) May 16, 2013
The routine maintenance required for some automobiles could help locate a problem in the ignition system. Replacement parts are one option that vehicle owners use to keep vehicles in running order. The AutoProsUSA.com company has made its mark selling auto parts to buyers online and has made changes to its ignition components inventory online. This company is now discounting its car distributor units for all buyers. The distributors can be quoted in price at http://autoprosusa.com/used-distributors-for-sale.
The new pricing is applied to the OEM and used units that are stocked for sale. These changes are expected to provide the range in pricing that can be difficult to locate when depending on retailers with a limited inventory.
Distributor systems used in cars manufactured before 1990 helped to supply the correct amount of voltage to ensure vehicles' startup normally. These systems were used in combination with spark plugs to control the amount of voltage needed for proper operation in cold or warm weather.
While many new vehicles now use coil packs in place of these components, many vehicles still in operation rely on dependable distributor units for replacement. The parts that are added for direct sale and discounted in price include the foreign and domestic editions that are now included in the company inventory.
The Auto Pros USA company constructed its website to be informative and helpful to parts buyers. Several important upgrades have been made online this year to provide easier methods of obtaining pricing and stock status for parts. The newest update to the website includes hundreds of pages now accessible online. These pages are now providing information about the parts quality and the types of parts that are offered for sale. These informative pages are offered in comparison to helpful specialists who maintain the company toll-free number calls.
The online quote methods that are now possible due to the website upgrades are helping more prices to be generated faster for buyers. The quotation system allows immediate parts price comparisons between the company low price and retailer pricing found online. These quotes can be reviewed by buyers and sales are designed to take place faster. Future updates are expected to help expand on this quotation technology this year.
About AutoProsUSA.com
The AutoProsUSA.com promotes one of the biggest inventories searchable for a secondary parts retailer online. This company adds to its available offerings online and makes regular upgrades to the types of parts and quantities provided. The company staff maintains the toll-free telephone number used to help buyers before, during and after sales are completed. The AutoProsUSA.com company price quote system launched online helps buyers to compare any in stock part price with pricing published by other sellers. These efforts and the inclusion of no charge warranty policies are expanding the sales made by this company online in 2013.