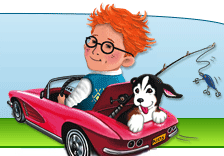 The phones are ringing off the hook, and our staff is putting in a tremendous amount of overtime to keep up with the rush
lakewood, NJ (PRWEB) December 29, 2012
2012 is almost done and the country and the world is looking forward to 2013, but on everyone's mind is the fast approaching tax season. There is very little time left to get your tax deductions in, and car donation charities like Kars 4 Kids are seeing massive increases in last minute donations.
The end of the year is traditionally the busiest season for charitable donations, and this year is no different. "The phones are ringing off the hook, and our staff is putting in a tremendous amount of overtime to keep up with the rush," said Kars 4 Kids spokesman Steven Weldler.
The charity has seen a sharp uptick in car donations during the last few weeks, as donors scramble to take advantage of a tax deduction for 2012. The end of the year is always a busy season for the car donation charity.
"We have been anticipating an increase in donations and prepared accordingly," says Kars 4 Kids spokesman Steven Weldler. "We are fully equipped to handle the many car donations that come in."
The car donation charity says that they have been doing everything possible to keep their customer service department refreshed and motivated. "We have people bringing around drinks and food to our customer service members desks," Says Weldler, "we have the most incredible team of reps, and they are so invested in the charitable work we do."
Kars 4 Kids is reporting a massive increase in donations in December with a 49% increase over last month. Although December is traditionally an incredible month for charities but this year car donation charities are reporting larger than usual spikes.
Car donations can be submitted until 11:59 PM December 31st on the Kars 4 Kids website or by calling 1-877-Kars-4Kids.