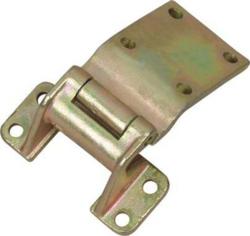 These hinges are now lowered in price for the domestic and import inventory carried.
Pittsburgh, Pennsylvania (PRWEB) May 19, 2013
Precision engineering of auto parts has helped to boost the sales of foreign and domestic units worldwide. Companies like Ford, General Motors and Chrysler have pioneered mass production of auto parts for manuacturing. Locating replacement exterior parts for vehicles is now expected to become easier for buyers relying on the AutoProsUSA.com company. A new web discount is now applied to the car door hinges inventory offered for sale. These hinges are now lowered in price for the domestic and import inventory carried. The approximate price and inventory numbers available can be found by visiting http://autoprosusa.com/used-rear-door-hinges-for-sale.
Secondary sources to locate automotive parts have existed for decades in North America. While many dealerships sell parts to the public, these parts can often come at a much higher price compared to junkyards or salvage companies. The trade-off in parts quality for a lower price is one that some owners of vehicles make to save money.
The parts that are now discounted for online sale by the Auto Pros company are in a higher condition. These parts have low usage and are direct pullouts from vehicles. This better parts quality and new sale pricing is expected to provide a better source for buyers to purchase compared with some offline retailers.
The exterior parts now sold by this company are part of new inventory changes announced earlier this year. In addition to exterior automotive parts, the interior inventory that is carried is now expanded for buyers. Hard to find replacement parts like airbags and engine control modules are now in the company warehouse.
The additions of these parts and the low pricing attached is one effort underway to boost the annual sales made in 2013. A tool for generating online quotes is now established on the company website. This tool is now in use by buyers who prefer to search independently compared with receiving offline assistance through the toll-free number system.
The changes to the website search and price system have helped this company generate more quotes and interest from buyers in its inventory. Due to these changes, a policy for warranty coverage was established. This new policy protection is expected to help parts buyers regain the confidence in used parts that could be lost when purchasing from other retailers.
The parts failure protection that is included with all purchases is an extra benefit to buyers using the Auto Pros company as a parts resource center. The inclusion of the warranty and regular inventory additions are two examples of recent incentives put into place this year.
About AutoProsUSA.com
The AutoProsUSA.com company is staffed by specialists who work closely with buyers representing all 50 states in the United States. The company staff ensures that all purchases made online and offline meet the high standards of quality that buyers expect from a seller on the secondary market. A new distribution network has been enacted this year to help with deliveries in areas of the country without a trusted retail source. The AutoProsUSA.com company supplies its policies for warranties and expedited shipment incentives to parts buyers without additional costs to create a cost effective parts replacement solution.