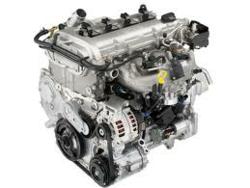 We are taking a major step forward with these new measures and our relationship with GM has been solid since the start of our company.
Dallas, Texas (PRWEB) June 12, 2012
Car engine wholesaler, http://www.gotengines.comblog/general-motors/gm-ecotec-engine-for-sale, is now offering the GM Ecotec engine for sale on its website. General Motors classifies this engine as one of the most popular in its history and this Generation II engine is now in stock at Got Engines. This new engine acquisition also comes with free continental U.S. shipping to businesses and individuals that order this Ecotec engine online. The planning and development to bring in this engine has been made by Got Engines for the last 3 years and newer engines are slated for fall releases. Car owners or mechanics that search online for a 2.2L or 2.4L Ecotec will now have the opportunity to buy these engines at a discount for an extended period of time.
General Motors is one of the longest reigning automakers in the history of modern automotive innovation. GM is solely responsible for many of the firsts that happened in the automotive industry. From fuel economy to power steering, General Motors has pioneered research and development in the 20th and 21st centuries. Not every engine dealer online is selected to sell GM performance engines to the public. The dealer pricing is traditionally reserved for professional sellers and not single persons that sell strictly on auction-based websites. "We're proud to offer GM engines and now the Ecotec family," said Robert West, Sr. Sales Consultant at GotEngines.com. "We are taking a major step forward with these new measures and our relationship with GM has been solid since the start of our company," West added. 
The inventory of used engines are one component in the automotive industry that are sold online nearly every day of the year. Salvage yards, junkyards and warranty companies often deal with secondary engine dealers to provide fast shipping for replacement engine inventory. These relationships are often separate from actual GM, Ford and Dodge dealerships that usually deal with brand new engines. Many times the cost savings including the absorption of shipping costs are less expensive for a used engine than a brand new crate engine shipped straight from an engine manufacturing plant. Retailers like http://www.gotengines.com/blog/general-motors/gm-57l-engines-sale that carry engines from domestic and foreign automakers like General Motors can remain a trusted source for used and rebuilt engines for sale on the Internet.
About GotEngines.com
Over five years of exclusive online selling to average customers, mechanics and salvage yards has helped build GotEngines.com into a premier merchant for used and rebuilt engines. Every employee that works for this engine retailer has a background in automotive sales, service or installation. A complete call center staff of men and women help hundreds of customers each day receive low online pricing for engines by every major domestic and foreign automaker. A toll free number and instant online quote system are two of the reasons that customers continue to return day after day to purchase used and rebuilt engines from GotEngines.com.