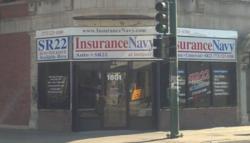 Understanding tax concepts is critical to insurance agents.
Chicago, IL (PRWEB) October 15, 2012
Leading provider of online auto insurance quotes in Chicago, Insurance Navy Agency, announced that it has initiated a new program to educate its staff and agents on federal and income tax issues. While the Agency will not be providing any income tax services, its sister company, TransTax Financial Services is preparing for the 2013 season of income tax preparation in Chicago.
Agency Spokesman, Fadi Snenneh said that the his Agency has already started tutoring its agents and staff on income tax issue and the first tax class was held Sunday October 14, 2012 in the Company headquarters in Palos Hills. "We want our staff and agents to have minimum knowledge of tax issues since they work very close with our professional income tax preparers of TransTax Financial. Our staff will not be doing any income tax return, but general awareness and knowledge will help enhance their professionalism. Understanding tax concepts is critical to insurance agents," Snenneh added.
Many agencies providing auto insurance quotes in Chicago are also offering tax preparation services for their clients. Offering these complementary services are seen as strengthening factors to the customer loyalty.
"We do see the relationship between TransTax and Insurance Navy as friendly despite the fact that the two organizations are totally different, with different legal entities and status. The common goals and the mutual benefit from the mutual help are clear. Each organization maintains its separate legal identity, employees, and structure," Snenneh stated.
About Insurance Navy Agency
Insurance Navy Agency is an independent insurance producer in Illinois, focusing on providing quality and low cost auto insurance in Chicago area. The Agency has major representation among almost all local non standard insurer and several standard insurers such as Progressive, Hartford, Safeco and more. The Agency serves its customers through many locations in Illinois and online.
About TransTax Financial Services
Transtax Financial Services offers quality state and federal income tax preparation services in Chicago. The company recruits its own team of highly qualified tax preparers. The company intends to add complete bookkeeping and payroll services in the 2013.