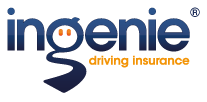 What ingenie is offering is a real alternative to sky-high premiums, based on the straightforward concept that the better you drive, the less you end up paying.
London, England (PRWEB UK) 7 December 2011
ingenie, a new car insurance brand that aims to offer a better and fairer deal to young drivers in the UK, has been launched with the backing of the English footballer turned broadcaster Gary Lineker and leading figures from the UK business and insurance market including, Steve Broughton, formerly a managing director of the RSA Insurance Group and his brother Sir Martin Broughton, Chairman of British Airways.
Operating online, ingenie (http://www.ingenie.com) is targeting young drivers in the 17-25 age bracket, who have been priced off the road by rocketing car insurance costs, which have seen those aged 17-22 now paying a typical annual premium of £2,431, up 64% on 2010*.
In contrast to the collective risk assumptions applied by traditional car insurers to young drivers, ingenie uses advanced telematics technology, fitted in the car, to assess individual driving styles and adjusts insurance premiums accordingly. In doing so, ingenie is seeking not only to offer fairer and affordable premiums to young drivers but also to encourage and incentivise better and safer driving.
A father of four boys, Gary Lineker was initially approached to act as brand ambassador for ingenie but was so impressed by the concept that he decided to invest:- as did Steve Broughton, a highly respected insurance industry veteran of more than 30 years, who is a co-founder and the chairman of ingenie. In addition to his executive career at RSA Insurance Group, Broughton is also a former chairman of the Motor Insurers' Bureau and is the Chairman of TESCO Underwriting Limited.
ingenie's executive team will be led by co-founders Chris McKee and Richard King. As a former board director of Direct Line and with more than 30 years' experience in direct insurance, McKee is a highly respected figure in the industry.
Chris McKee is to act as chief underwriter officer for ingenie, which will be led by co-founder and chief executive, Richard King. King has had previous start-up success in the technology/insurance sector as co-founder and executive director of Innovation Group Plc, which he helped grow from a start-up with 6 people to a listing on the London Stock Exchange in 2000 with a peak valuation of £1bn. The company grew significantly after developing a motor claims systems that was adopted by leading insurers in the UK.
In launching ingenie, the founders have combined their technology and insurance backgrounds to deliver a fresh approach to insuring young drivers.
Commenting on the launch, Richard King said:
"It's about time young drivers had a chance at getting reasonably priced insurance instead of being excluded from the road by often inaccurate and unfair assumptions about their driving style.
By rewarding young people for better driving, we can generate a community of safer drivers for the future and build a truly scalable business at the same time."
In line with its target market, ingenie will focus marketing on Twitter, Facebook, YouTube and other social media networks. Young drivers who take out insurance with the company are sent updates on their driving style in Twitter-style messages via the ingenie mobile application direct to their phones. The fed-back information is then collated every three months and evaluated to amend the original quote.
Gary Lineker, said:
"As a father of four, the costs of car insurance are simply eye-watering and a major obstacle to any young person who has passed their test and is ready to drive. What ingenie is offering is a real alternative to sky-high premiums, based on the straightforward concept that the better you drive, the less you end up paying."
ingenie has also formed an official partnership with AT&T Williams, the British Formula 1 motor racing team and constructor. As well as sharing technical experience and expertise, the partnership will promote road safety through better driving.
###