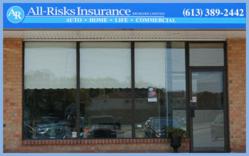 Managing Partner for the All-Risks Kingston office, Matt Dubblestein, claims that their agents will get a customer "the best price possible with the best coverage too."
Toronto, Ontario (PRWEB) May 08, 2012
Local business web presence directory, LocalHood.ca aims to expand local search results for automobile insurance brokers. The directory is in a state of beta release and is now starting to include advertising verticals that are related to various types of automobile services including advertisers who broker car, motorcycle and watercraft insurance coverage.
The first insurance agency to join the directory is a branch of All-Risks Insurance Brokers Limited, located in Kingston, Ontario. The branch office was established at their current Kingston location on June 1/2011 and it is staffed by a group of experienced RIBO licensed insurance brokers. Managing Partner for the All-Risks Kingston office, Matt Dubblestein, claims that their agents will get a customer "the best price possible with the best coverage too."
The office is hopeful of building a web presence that can help it attract local residents who are in the market for various types of general and commercial insurance coverage. More and more consumers are using the World Wide Web to search for various types of insurance products and services that are available in their local area. While the branch is less than a year old, it hopes to become discoverable online for keyword searches such as car insurance Kingston for example.
The agency offers to secure quotations for various other sorts of insurance coverage from a list of leading Canadian insurance companies. All-Risks Insurance Brokers Limited does claim to offer competitive pricing on Automobile Insurance, Home and Property Insurance, Life Insurance, Medical Insurance and Travel Insurance as examples of their product and service offerings for residents of Kingston and the surrounding communities.
Other car related advertisers that are being added to the LocalHood.ca include automobile repair services, tire dealers, automobile detailing centres, and auto body and collision shops and so on. For example, the site has recently added an advertiser in the Brampton, Ontario market who hopes to become discoverable online for auto detailing related local search terms such car detailing Brampton.
LocalHood.ca has also added categories for new car sales dealers to advertise their store locations but the directory has not yet pursued the addition of either new or used car dealers. The site does feature one new car sales representative who can be found prominently on Google through local search queries such as Brampton Buick and Brampton Chevrolet. Localhood.ca hopes to attract future new car dealer advertising when the site eventually goes live later in 2012.
An upcoming update for the localhood.ca site will improve how the site renders on mobile devices. According to Google, one out of three mobile searches is for local information. Mobile Local Search is a technology that lets people search for local things using mobile devices such as smart phones, PDAs, and other mobile devices such as tablets. New car dealers and aftermarket car services will benefit from the improved mobile search platform.
About LocalHood.ca
LocalHood.ca is an emerging, local web presence business directory that has recently launched as a live beta site. LocalHood.ca presently hosts location based information for a variety of Canadian businesses in addition to local event listings and classified ads.
"LocalHood" is a LocalHood Marketing trade mark. For more information, go to LocalHood.ca. Questions can be directed to (289) 752-7335 or toll free 1-888-975-9222 email: info(at)localhood(dot)ca