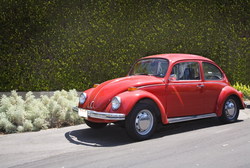 (PRWeb UK) December 18, 2009
The latest edition of the online, interactive version of the turbo-charged motor and biking magazine influx, from Adrian Flux Insurance Services, features all things German.
The article 'Influx Top Ten German Cars of All Time', lists the definitive top ten cars to come out of Germany according to the petrol-heads at influx, ranging from the first patented automobile to super-powerful F1 racing cars. Disagree? Then log on to influx and have your say.
Germany has produced some of the most significant cars in history. They're not just reliable, but fast, stylish and innovative to boot. Though it may pain us to say it, Germany gave birth to probably the best Formula One driver of all time and with their reputation for brilliant motor engineering, Germany and all things automotive go hand-in-hand.
Influx's top ten includes the Benz Patent Motorwagen, the first ever patented automobile, two BMWs, two VWs and two Porsches, the 911 and the 917. The 917 is one of the most iconic sports racing cars of all time, largely for its high speeds and high power outputs. The editorial awards Count Rossi's road-registered version as probably the coolest thing to ever don number plates.
Unsurprisingly, the Volkswagen Beetle features in the top ten, originally called Volkswagen Type 1, then Käfer (German for 'Beetle'), it was one of the most influential cars of the 20th Century, paving the way for other compact cars to follow.
Influx online is more than just an online magazine, it's fast becoming a web-based motoring community where users can exchange information about the featured stories. If they think Audi, Opel, Trabant or even the Smart car deserved to make the top spots, influx users can log on and have their say.
As well as the ten of the best, the latest edition of influx features an article on Bavarian Motor Works, German bike technology and influx meets four German car nuts. Plus, influx examines German motorsport heritage with reports on the Nurburgring and Audi Quattro.
Influx is published by Adrian Flux Insurance Services, the specialist motoring insurance broker. For details contact the Adrian Flux quote line on 0800 081 8989, email the company at quotes@adrianflux.co.uk or see the Flux homepage on http://www.adrianflux.co.uk
Copy ends
Notes for Editors
The definitive top 10 German cars according to influx
Ruf CTR Yellowbird
Mercedes-Benz 560SEL 6.9
Auto Union V16
BMW 507
Volkswagen Golf GTi
BMW E39 530d
Volkswagen Beetle
Benz Patent Motorwagen
Porsche 911
Porsche 917
###