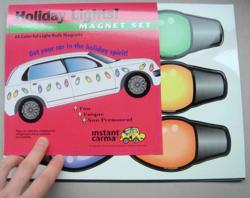 Excellent prices, fast delivery. Thank you for carrying exactly what I was looking for. Very Satisfied. -- Susan B
Minneapolis-St. Paul (PRWEB) November 30, 2012
SupportStore.com announces the immediate availability of the Instant Carma brand 24 Holiday Light Bulbs Car Magnet Set.
This set of 24 colorful, oversized, art deco style holiday light bulb shaped magnets turns a car, SUV, truck, or even tractor trailer into a holiday theme. They also work on metal wihiteboards and refrigerators.
Designed by SupportStore and manufactured to our specifications, this 24 magnet set comes in a resealable vinyl pouch for storage. Individual magnets are 3 inches by 1.5 inches, printed on .030 thick indoor/outdoor grade magnetic vinyl with UV- protected inks.
Since they are magnetic, they are easy to apply and easy to remove, leaving no residue like most bumper stickers, and they are reusable.
The SupportStore Instant Carma 24 Holiday Light Bulbs Car Magnet set sells for a retail price of $19.99 and is available now, exclusively at SupportStore. Reseller agreements are also available.
About SupportStore
SupportStore is an online store offering same day shipping on over 500 "Products with a Purpose™", including wristbands, car magnets, lapel pins, oval decals and embroidered ribbons.
Most products are designed to help a customer "Shout out what you care about™ with store themes on health issues, cancer, marathon runners, patriotism, Christian products, and other awareness themes.
SupportStore has perhaps the largest selection of in-stock silicon rubber cancer wristbands used by families to show support for someone facing a health challenge, or to increase awareness of the disease. Another large assortment is awareness ribbon car magnets. On a lighter note is the Instant Carma car magnet theme sets including the holiday bulb car magnets.
SupportStore was founded in 1999 and donates 10% of health awareness item profits to charity.