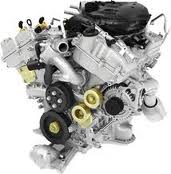 Rebuilt engines for Ford, Chevrolet, Dodge, Plymouth and Honda vehicles are part of the new price incentives.
Medford, Oregon (PRWEB) June 08, 2013
New and preowned vehicle owners share the common need for engine replacement at some point during ownership of a vehicle. While sources for finding engines can vary, obtaining better pricing is one way to lower the replacement cost for vehicle owners. The CarEnginesforSale.com company is now reducing the car motors prices for many of its engines in stock as a summer sales promotion. Rebuilt engines for Ford, Chevrolet, Dodge, Plymouth and Honda vehicles are part of the new price incentives. These discounts are scheduled to remain in effect until the fall of the year for offline or online purchases made at http://www.carenginesforsale.com/ford-engines/ford-car-engines.
Replacement vehicle engines can most often be found online in two types. These types are used and reconditioned. While each of these can have high mileage, used engines can often be sold without a warranty protection policy. The current sales promotion announced now includes the warranty coverage that can be difficult to locate for a replacement engine.
This new Car Engines for Sale Co. protection policy gives buyers a full three-year policy that is designed to offer parts protection against early breakdown or other component failure. The current sale pricing now in effect includes these policies for warranties as a promotional incentive.
The reconditioned engines that are listed for online sale at the CarEnginesforSale.com company can now be quoted in price using the instant quote system installed this year. The system has been programmed and linked with the company database to supply up to date pricing for all motors in stock. A basic data set is required for buyers to receive automatic pricing displayed online or distributed by e-mail. The installation of this quotation system has removed the need for offline processing of engine quote requests. The toll-free number used to support customers and answer questions about inventory can still be used for price requests.
Price drops were announced earlier this year for several brands inside the company inventory as a test market for consumers. The Dodge brand of vehicle engines received the first phase of the price decreases for four-cylinder engines. This news announcement was made at http://www.newschannel10.com/story/20482100/dodge-car-engines-now-reduced-in-price-for-mechanics-at-carenginesforsalecom to inform mechanics and owners of vehicles about the new pricing in place.
Since this release was launched, additional Dodge motors have been added to the company inventory for sale online. The Stratus, Intrepid and Neon engines are represented in the current inventory for sale and eligible for the new summer price promotion.
About CarEnginesforSale.com
The CarEnginesforSale.com company rebuilds engines used in domestic automobiles. Frequent investments into better technologies for reconditioning motors are made by this company to improve the output and installation quality. The price reductions announced by this company seek to offer better replacement engine costs to buyers in the U.S. The CarEnginesforSale.com company recently included better pages on its website to promote more information about the refurbished motors in stock. The introduction of the online price generation system is now one method offered to produce accurate web pricing.