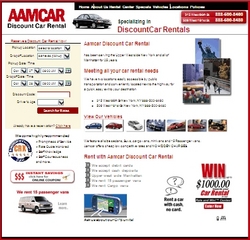 I had a job interview in Nassau County and I dreaded having to take the Metro-North
New York, NY (Vocus) February 25, 2010
Aamcar car rental New York has lowered rates for various packages which appeal to consumers needing a car for job-hunting or an inexpensive vacation. As major car rental companies continue to make it difficult for the average person to rent, New Yorkers are turning to Aamcar for all their car rental needs.
Most New Yorkers can't afford to own a car, but a vehicle comes in very handy at certain times. As economic conditions worsen, job-hunters are more willing to travel to the outer boroughs or neighboring states to apply for work and sit for interviews. Mass Transit isn't a desirable option for those who want a quiet, relaxing trip in order to focus on their upcoming interview. Aamcar Car Rental, located in the heart of the Upper West Side, has slashed prices on weekday rentals in response to this need. Aamcar offers a 24 hour rental, with 100 miles included, for a paltry $45/day plus tax on weekdays. Many consumers are taking advantage of this rate. "I had a job interview in Nassau County and I dreaded having to take the Metro-North" said 28-year old Gary Fiennes, a resident of Manhattan. "I wanted to think about my answers to tough interview questions, which would be tough with all kinds of noise from other train passengers. Aamcar's one-day rental provided a simple and inexpensive solution."
Aamcar's low rates aren't restricted to weekdays. The company has realized that New Yorkers have had to put plans for an expensive vacation on hold, and instead opt for weekend trips. Aamcar also provides low weekend rates; a weekend rental for a 15 passenger van costs just $150/day plus tax, while regular vehicles are priced starting at $55/day. These low rates are allowing New Yorkers on a fixed budget to still enjoy a quick weekend getaway. "I wanted to go to visit family in Delaware with my wife and two kids" said 34 year old Sam Orleans. "I don't currently have a credit card, and no car rental company in the city would allow me to rent a car with my debit card. I found Aamcar through a friend and they took my debit card with no issue whatsoever. Aamcar certainly makes it easy for the average Joe to enjoy a cheap family vacation".
For over 25 years, Aamcar has identified with the needs of average New Yorker (see Rent New York). In this tough economic time, Aamcar is making sure that professionals and families can still rent a car inexpensively for work or play.
Contact:
Bidisha Chatterjee
Public Relations Department
Aamcar Car Rental
(212) 222-8500
http://www.aamcar.com
# # #