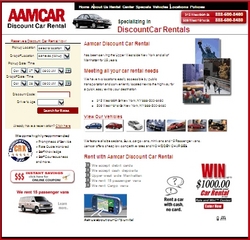 ...interested renters looking for large vans for their summer vacations should contact Aamcar immediately
New York, NY (PRWEB) July 20, 2011
Aamcar rental service has expanded its van fleet to include fifteen passenger vans to meet the local demand. These vans are perfect for New Yorkers who are interested in traveling up and down the eastern sea board and as far west as Missouri. Aamcar will also work with renters of the vans to create unlimited mile rates for popular destinations such as Orlando.
Most New Yorkers do not keep a car in the city due to expensive parking costs and limited parking availability; however, a vehicle comes in handy at certain times, especially during summer vacation. As economic conditions worsen, Aamcar offers exceptional deals on their 15 person vans allowing for different payment methods.
The fifteen person van rentals offer plenty of room and storage for all customers looking to travel long distances. The vans are perfect for storing luggage when traveling as well as having room for multiple passengers.
Not only does Aamcar accept debit cards, but they also accept cash deposits. There are also coupons and specials that Aamcar offers at different times for its clients. Aamcar also believes in not over-renting any of its vehicles. The large passengers vans rent quickly in the summer season, interested renters looking for large vans for their summer vacations should contact Aamcar immediately.
Aamcar believes in strong customer service and makes it their goal to have potential renters' phone calls answered on the second ring. Aamcar also provides drivers for its cars, and rental cars are available for pick-up or drop-off at hotels and airports such as such as LaGuardia, JFK and Newark for all renters. Aamcar has two locations both accessible by the red line on the New York City subway.
For more information about Aamcar visit http://aamcar.com/ like our Facebook or follow @aamcar on Twitter.
About Aamcar:
For over 25 years, Aamcar has identified with the needs of the average New Yorker. Aamcar's owner realized that buying new cars is a better business model because newer vehicles are more attractive to a potential renter and is a better investment. Aamcar gradually added Minivans and SUVs to its fleet, including five passenger sports utility vehicles and sports cars like the Ford Mustang to meet the demands of renters who come from Europe and all over the world to visit NYC. Aamcar's staff provides excellent customer service and Aamcar does not overbook its vehicles. Aamcar also provides prices that are lower than the other NYC rental companies.
Contact:
Bidisha Chatterjee
Public Relations Department
Aamcar Car Rental
888.287.7066
http://www.aamcar.com
# # #