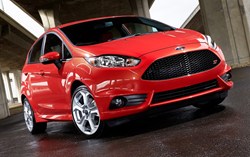 car sales figures are often a good indicator of consumer confidence
(PRWEB UK) 26 April 2013
March 2013 marked the 13th consecutive month of growth in the new car sales market since 2010 when The Government introduced the car scrappage scheme. According to figures released by the Society of Motor Manufacturers and Traders (SMMT), there were 391,806 13-plate vehicles registered in March.
The uplift in sales follows strong demand for private registrations in Q1. There was an 11.2% rise in private sales in the first quarter of the year. Figures produced by the SMMT also show that registrations of petrol fuelled cars have risen by 12.1% thus far in 2013, outselling diesel vehicles. By comparison, registrations of cars with alternative fuel sources only increased by 2.9% in the first quarter.
The 'Mini' car segment has shown the most growth in March, up 56.5%. Gains were also made in the MPV and dual purpose segments, however, the Upper Medium and Luxury Saloon car segments were the only categories that did not show growth within the month.
The figures in March showed that the Ford Fiesta, Vauxhall Corsa and the Ford Focus were the top three best sellers.
1 Fiesta
2 Corsa
3 Focus
4 Golf
5 Astra
6 Qashqai
7 Polo
8 BMW 1 Series
9 Peugeot 208
10 Mercedes C-Class.
Source: SMMT Top ten best selling cars in March 2013.
Andrew Goulborn, Commercial Director at Tiger.co.uk, commented:
"The figures published by the SMMT are good news for the motoring industry and car sales figures are often a good indicator of consumer confidence. Our monthly motor insurance price monitor, Tiger Watch, shows that while overall car insurance rates have remained stable, younger female drivers are suffering from the introduction of the EU Gender Directive. In addition to high petrol and diesel prices, this is likely to maintain the popularity of more fuel efficient models and the decline in luxury saloon car segments. We are hopeful that this upward trend in car sales continues and that more fuel efficient technologies continue to be developed by motor manufacturers."
About http://www.tiger.co.uk:
Tiger.co.uk is a trading name of Call Connection Ltd. Tiger.co.uk is a UK based, independent motor insurance comparison site, offering insurance quotes from over 150 motor insurance brands. Call Connection Ltd is authorised and regulated by the Financial Conduct Authority (FCA number 308374)
Attribution - http://www.smmt.co.uk/2013/04/new-car-market-momentum-continues-in-key-plate-change-march/