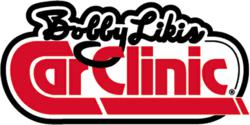 Says Likis, "We got our mojo on in August and are ready to blast September with more in-depth inside looks into what drives America."
(PRWEB) September 01, 2012
As September revs up, automotive expert and car-talk host Bobby Likis publishes all his chats with Car Clinic guests during the wheel-squealing month of August. The impressive line-up includes Sam Hornish, Jr. (NASCAR Nationwide Series and Sprint Cup Driver); James Bell (Head of Consumer Affairs, General Motors); Ron Pyle (President, Automotive Service Association); Gary Strumolo (Manager of Research and Advanced Engineering, Ford); Jeanenne Tornatore (Senior Editor, Orbitz); Ron Gividen (Media Manager, Escort Radar); and Randy Fisher and Chris Barker (Director of Consumer Marketing & Tribologist/Director of Technical Services, respectively, Royal Purple High-Performance Motor Oil). The depth and breadth of these interviews engages the automotive consumer & enthusiast as Likis's industry-leader guests spotlight "the what's happening." For an index to all the Car Clinic interviews and corresponding weblinks: BobbyLikisInterviews.com. Earlier interviews include Mark Reuss (President, North America, General Motors) and Cale Yarborough, Dale Inman and Glen Wood (racing legends).
Says Likis, "We got our mojo on in August and are ready to blast September with more in-depth inside looks into what drives America."
Car Clinic guests in August:

Sam Hornish, Jr.: NASCAR #12 Nationwide Series and #22 Sprint Cup Driver talks about this racing season, his previous Indianapolis 500 win and why he has chosen Scott® Pro Shop Towels for his garage.
James Bell: Bell gives an inside look at the driverless car and supporting technologies including SuperCruise and WiFi Direct which includes wireless pedestrian detection and a protocol for vehicle-to-vehicle communication.
Ron Pyle: As the Automotive Service Association's president, Pyle invites those in the automotive service industry to join him and Likis in New Orleans for "the' industry event: ASRW | CARS | NACE. During the interview, Likis revealed that he is taking the Car Clinic show on the road for the event...and is bringing the Renewable Fuel Association and Ricardo Engineering with him. Automotive technicians and shop owners can see Ricardo's Extreme Boost Direct Injection (EBDI) engine - optimized for the high-octane properties of ethanol - in booth C1047.
Gary Strumolo: Considering a DOT-estimated 500 million commute hours per week, Strumolo highlights Ford's "cars that care," including a SYNC application that can redirect on-the-road routes to avoid heavier pollen areas for drivers and passengers with allergies.
Jeanenne Tornatore: Orbtiz's Senior Editor shares last-of-the-season travel tips and deals.
Ron Gividen: Gividen educates you as to who's on the other side of X, K and Ka radar guns, and even more exciting is news of Escort Live! 2.0, social networking for the road (Hint: you don't need one of Gividen's Escort radar detectors to use Escort Live!)
Randy Fisher and Chris Barker: Conscientious automotive consumers, hands-on enthusiasts, motorsports aficionados, motorcyclists and all who are curious about oil-related or other lubrication applications will love this 2-hour Royal Purple Co-Host live from the Car Clinic studios.
"Bobby Likis Car Clinic" is the largest car-talk program/network on commercial radio, multiple web audiocasts, live video webcast (WatchBobbyLive.com), podcasts (including iTunes), iPhone, chat room, YouTube, Facebook, Twitter, American Forces Radio Network & television. Car Clinic can be heard and seen on Saturdays, 10a-12n ET, live at WatchBobbyLive.com.
About Bobby Likis: Likis is the only car-talk host on commercial multi-media platforms named for five consecutive years to the "Talkers 250," the prestigious list of the top 250 talk-show hosts in America. For more information about automotive expert Bobby Likis and the Car Clinic Network, visit CarClinicNetwork.com. For details about Bobby Likis's award-winning automotive service shop, visit CarClinicService.com. Join Bobby on Facebook at Facebook.com/BobbyLikis; on Twitter at Twitter.com/BobbyLikis; and on YouTube at YouTube.com/BobbyLikis.