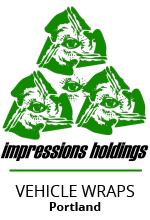 Portland, Oregon (PRWEB) June 06, 2013
With so much mass marketing saturating our lives, it can get redundant. Consumers are constantly desensitized to the numerous marketing ploys to get them to buy products and services. Therefore, innovative marketing companies such as Impressions Holdings encourage companies that take different approaches to marketing their company. Portland, known for its trendsetting and creative vibe, is the perfect city to try out these new marketing techniques. With so many residents interested in the arts, marketing companies can get a great perspective on what works and what doesn't. One of these companies that Impressions Holdings feels excels over their competition is Vehicle Wraps Portland, a company that Impressions Holdings recently launched as Portland's Top Car Wraps Team.
What does it take to be Impressions Holdings' Top Car Wraps Team? Dedication, perseverance, and one very talented team. Portland is known for their car wrap companies so it's no small feat that they caught Impression Holdings attention.
Vehicle Wraps Portland offers numerous services. These include car wraps, fleet wraps, and mobile advertising. They do not limit themselves to cars and will do trucks, van, limos, and even boats. The company also does vinyl wraps and vinyl signs for companies who don't have a car but want their store sign to stand out from their competition.
For years, Impressions Holdings has been working with companies to brainstorm creative approaches to marketing. No project is too big or too small for the online marketing firm. Impressions Holdings excels in branding, communications, and networking and with an extensive portfolio it definitely shows!