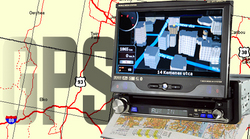 One manufacturer sold 14.4 million GPS units in Western Europe alone
Shenzhen, Guangdong (PRWEB) April 29, 2009
Chinavasion Wholesale Ltd reaffirmed itself as the market leader in China wholesale electronics recently, offering a line of GPS ready car DVD players.
More people are looking for car DVD players with GPS navigation functionality.
According to the research group CEA sales of GPS devices tripled and a quarter of people surveyed by the research group said they wanted a GPS device.
According to wholesale dropship company Chinavasion PR manager Rose Li this translated into sales.
"One manufacturer sold 14.4 million GPS units in Western Europe alone," said Chinavasion's Rose Li.
And while an increasing number of factories and wholesalers in China are offering GPS capable Car DVD Players, Chinavasion's Rose Li warned buyers to pay attention to the pre-installed software.
According to Chinavasion's Rose Li some China car DVD suppliers offer cracked or sample software with their GPS car DVD players but did not tell customers that the customer will not in fact get the fully licensed version of software.
"The common practice of pirating GPS software by Chinese factories puts Car DVD importers in a difficult position," according to Rose Li.
"Pirated GPS software is unreliable, cannot be updated, and can be illegal to import - that is why Chinavasion absolutely avoids such dubious practices."
Instead Chinavasion offers GPS ready car DVD players, ready to be loaded with the GPS software that suits the customers' location and budget and gives the driver advice on how to find and install the GPS software.
"At Chinavasion we are proud to give customers the information, technology and know-how they need to get from A to B"
According to Rose Li by doing this Chinavasion had reaffirmed its place as a reliable source of cutting edge wholesale car DVD players.
"When people buy a car DVD player from Chinavasion.com they are making an informed choice," according to Rose Li. "A choice that is backed up by a 12 month warranty and a full QC check."
Chinavasion.com is the leading online drop ship wholesaler for automotive audio visual equipment and consumer electronics. Accredited by PayPal, Verified Site, and ScanAlert, and listed in all the leading B2B directories, Chinavasion is the market leading China wholesale supplier for EBay dropship sellers and electronics worldwide. For more details visit: http://www.chinavasion.com/
###