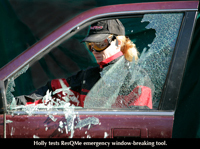 Compared to a really bad hair day, which only makes you cranky, a really bad car day can make you dead
Bethel, CT (PRWEB) September 25, 2009
iCarMedia, LLC announced the launch of http://BadCarDay.com .
Focusing on car situations unique to women, the site's mission is 'how to avoid' a bad car day by providing answers to such emergency questions as: • Best ways to stay safe in a lonely, scary garage or parking lot? • Should a woman carry a pepper spray such as Mace? If so, which brand, how to use? • How to escape a car underwater? • How to avoid a carjacking?
"Compared to a really bad hair day, which only makes you cranky, a really bad car day can make you dead," declares Holly Pemberton, Co-Editor.
BadCarDay.com is a "how-to" website with both original articles and links to annotated lists of Editor's Choice "Best of the Best" car websites. To date 46 sites out of 1,600+ have made the cut. They range from the massive Edmunds.com to the smaller, but immensely useful, WhatHappensNext.com. Full descriptions accompany each link.
BadCarDay.com is produced by the father-daughter team of Jeff and Holly Pemberton, both with deep credentials in online research - Jeff at the New York Times Information Bank, Holly at Simon & Schuster's interactive publishing division. Together, they have scoured the Web for worthwhile car emergency information and vetted over 1,600 websites.
Representative categories include:

Women's 10 Darkest Driving Fears, such as an attack in a lonely garage or parking lot.
Driving Through Natural Disasters/Severe Weather, such as Flash Floods
Car accidents, such as How to Avoid; Deal with Medical & Legal Issues after accident.
Everyday Driving Stress, such as How to Parallel Park a Big Car.
How to Create a 'Right Stuff' Car Dire Emergency Kit for rescue and personal defense.
Plus a Low-stress Approach to familiar topics such as car buying and maintenance ].
Typical BadCarDay.com articles begin with 'What You Need To Know,' followed by 'How to Avoid' and 'What to Do' sections summarizing the best expert advice on the Web, as well as Holly and Jeff's own research and product testing. For pepper spray, (Click for Video) Holly shot streams of liquid and gel at a full sized police pistol target. To escape from a car underwater, the team tested devices designed to break car windows using car doors from junkyards.
Jeff tested high intensity, super-bright Tactical Flashlights (for scaring off attackers), and came up with a compact eyeball-burner that's one third the price and half the size of the runner-up. Holly's tests came up with the loudest, shrillest whistle a woman can carry on her keyring. Easy ordering of these products is available on Amazon's Listmania! Section.
Women's self defense tactics useful in car-related dangers, such as carjacking and kidnapping, are included in certain articles. These are researched, written or edited by Holly, who studies self-defense and kickboxing. Such topics become more timely as the recession impacts crime rates, especially violence toward women - often when they are exiting or returning to their vehicle.
BadCarDay.com is an ongoing project that will engage its readers and ask them to contribute their true-life experiences. In a charming, happy-ending example, a Wilton, CT librarian told of having a blowout on the Cross-Bronx Expressway in NYC. A trucker stopped to help, but when he told her 'go wait in my truck - there's some cookies there,' she worried that it was a ruse that would have a bad outcome, so she waited outside. But he 'did' change her tire and as his truck rolled by, she saw the company name on the rear: Keebler Cookies.
About iCarMedia, LLC
The company will monetize BadCarDay.com with: • A bi-annually published glovebox-sized book: • One or more iPhone apps; • An Amazon Kindle and other electronic editions;

Affiliate marketing of its Amazon Listmania!s: • An expansion of BadCarDay.com© to at least 3X its initial number of articles, with Google ads, plus site and/or page sponsors.
A series of BadXXXDay.com websites and books is planned, starting with BadFlyingDay.com©
###