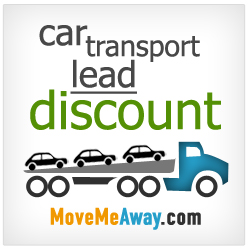 for whatever reason, if your vehicle, be it a car, truck or SUV that is being transported across Canada from Vancouver to Montreal, or the 2400km from Miami to Toronto, you need trust and reliability.
Vancouver, BC (PRWEB) May 30, 2012
MoveMeAway.com continues to increase the number of car shipment companies in their network, but just as important, establishes their reliability. Melih Eroglu, MoveMeAway's CEO said; "For whatever reason, a vehicle, be it a car, truck or SUV that is being transported the 3700km across Canada from Vancouver to Montreal, or the 2400km from Miami to Toronto, owners need trust and reliability. That is why MoveMeAway.com has built a network of reputable car transporters that deliver safe and timely shipment of their vehicle."
Now both Canadians and their American cousins will be especially interested to know that MoveMeAway.com has a dedicated webpage, that allows consumers to find reputable car transporters and compare their prices. So, for consumers who are seriously thinking of shipping a vehicle, the process is made very straightforward by their easy to use web portal. One just completes the online form, and MoveMeAway.com then forwards the information to a maximum of 5 specially selected, quality movers who are suited to facilitate their specific vehicle shipment needs.
MoveMeAway.com has gone to even greater lengths to satisfy their extensive network of registered car transporters, and it is now easier for car shipment businesses to ensure that they obtain "quality and reliable leads." MoveMeAay.com has developed a mover's control panel that can fully monitor the leads that they receive so that they can evaluate their ROIs. Furthermore, movers can now also use their control panel to instantly report leads that are not suitable for their business. This ensures "value" of the leads they pursue and that there is no loss of credit from MoveMeAway.com.
The number of cars on roads is increasing steadily. Canadians are driving greater distances and more often. It has been calculated that each Canadian car travels over 18,000 km/year or about 350 km/week. Therefore, reducing the number of kilometers driven by shipping cars with a reputable vehicle transporter means a reduction of traffic, unwanted gas emissions and a safer environment.
AboutMoveMeAway.com:
MoveMeAway.com is a customer/provider service that establishes a conduit between the relocation and shipping industry with potential customers who require relocation of their belongings, be it household, industrial, college or car transport. By generating quality customer data, MoveMeAway.com focuses on the distribution of this information to reputable moving companies in Canada and the United States. This significantly simplifies the ordeal of relocation for consumers by allowing them to find multiple estimates from different reliable movers, by the click of just one button. Relocating companies also benefit as relevant and significant consumer leads are sent directly, thus reducing their need to advertise. Furthermore. MoveMeAway.com's blog site offers free, practical advice for individuals planning to move, from what to consider when thinking about moving to what to do on arrival at their new destination.
Visit MoveMeAway.com to learn more about the company, or to find answers to any questions about registering a removal or auto transporter business. MoveMeAway.com also can be found on twitter, LinkedIn, Facebook or can contact one of their customer service representatives at 1 (888) 700-9048.
For More Information Contact:
1 (888) 700-9048
info(at)movemeaway(dot)com
http://www.MoveMeAway.com