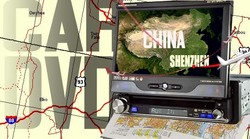 Car DVD players become even more profitable for eBay resellers when they are dropshipped
Shenzhen, Guangdong (PRWEB) April 30, 2009
While cell phones might be the darling of the media and gadget blogs car DVD players will be the real money makers for eBay resellers this year.
Retail lobbyist group the Consumer Electronics Association expected strong growth in the car DVD market with consumers expected to spend $419 million.
The group predicts 1.2 million portable DVD players will be shipped.
According to China wholesale dropship supplier, Chinavasion's PR Manager, Rose Li, the high perceived end value, the low prices of China wholesale car DVD players and the lower level of competition made car DVD players the item for eBay resellers to dropship in 2009.
"Car DVD players become even more profitable for eBay resellers when they are dropshipped," according to Rose Li. "When the need to have money tied up inventory are removed the possibilities for business expansion are huge."
With dropshipping the eBay reseller lists the item for sale but doesn't actually pay for it until somebody has bought it from them.
The wholesale dropshipper sends the item directly to the reseller's customer.
However, according to Rose Li it was important to have a China dropshipper or wholesale supplier that had great customer service systems, a good returns policy and a stringent QC process.
"Chinavasion is so sure of its stringent QC policy that it offers a 12 month warranty on all of its products, including its car DVD players," according to Rose Li.
"To make matters even easier Chinavasion's customer service staff is professional, friendly and specially trained in handling dropshipping issues."
###