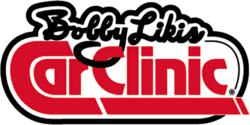 WIBQ's Brand Manager, Frank Rush: We are delighted to have 'Bobby Likis Car Clinic' on WIBQ. Bobby's automotive knowledge is encyclopedic, and his interactive, educational approach with callers makes him a prized on-air asset. 'Like Us...You'll Love Us!'
(PRWEB) June 28, 2013
Beginning on Saturday, June 29, "Bobby Likis Car Clinic" will air on WIBQ, Terre Haute's 50,000-watt FM powerhouse, from 4p-6p ET. Host Bobby Likis has logged over 100,000 on-air conversations on the 2-hour "Bobby Likis Car Clinic" broadcast as he talks with callers about automotive-lifestyle subjects from buying and service decisions to mobile electronics to alternative fuels.
Likis reflects, "I'm excited that WIBQ is joining Car Clinic's family of coast-to-coast affiliates. And I'm looking forward to helping WIBQ listeners solve their car challenges with advice based on 42 years experience in the automotive service industry." Likis adds, "Plus we'll have a lot of 4-, 3- and 2-wheeled fun."
WIBQ's Brand Manager, Frank Rush, says, "We are delighted to have 'Bobby Likis Car Clinic' on WIBQ. Bobby's automotive knowledge is encyclopedic, and his interactive, educational approach with callers makes him a prized on-air asset." Rush sums it up, "'Like Us...You'll Love Us!'"
About Bobby Likis Car Clinic
"Bobby Likis Car Clinic" is the largest car-talk program/network on commercial radio, multiple web audiocasts, live video webcast, podcasts (including iTunes), iPhone, chat room, YouTube, Facebook, Twitter, American Forces Radio Network & television. Car Clinic can be heard on broadcast affiliates nationwide and seen live at WatchBobbyLive.com and on Facebook.com/BobbyLikis. Host Bobby Likis is the only car-talk host on commercial multi-media platforms named for five consecutive years to the "Talkers 250," the prestigious list of the top 250 talk-show hosts in America.
About WIBQ
WIBQ is a radio station broadcasting a News Talk Information format. The station serves the Champaign, Illinois and Terre Haute, Indiana area. The station is owned by Midwest Communications, Inc.