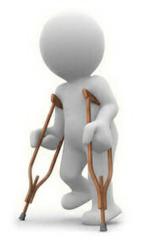 Pain after a car or motorcycle accident? Arizona Pain offers award winning auto accident doctors to help people avoid chronic pain. Liens accepted. Call (602) 507-6550.
Phoenix, AZ (PRWEB) May 09, 2012
The leading car accident doctor clinics in Arizona are now accepting personal injury liens and new patients for treatment after an automobile or motorcycle crash. Arizona Pain has auto accident doctors at multiple clinics in Arizona including a Phoenix chiropractor and several others across the Valley, physical rehab specialists, and Board Certified, fellowship trained pain doctors.
Treatment can be started within 24 hours at (602) 507-6550.
Managing life after a motorcycle or car accident can be tough to manage, both physically and emotionally. One may need to deal with obtaining a rental vehicle, an insurance company, and need time off from work because of painful injuries that need medical treatments, either chiropractic, PT, or pain management. It may be tough to find auto accident doctors who work with accident victims and accept personal injury liens.
The medical providers at Arizona Pain, the award winning AZ pain clinic with several locations throughout the Phoenix metropolitan area, now accept personal-injury liens for treating patients involved in accidents. The clinics treat patients throughout Phoenix, Scottsdale, Glendale, Mesa, Chandler, Tempe, Surprise, Gilbert, Goodyear and more.
Options offer for pain treatments at the clinics include medication management, interventional pain procedures, chiropractic treatment, spinal decompression therapy, physical rehabilitation, acupuncture, and massage therapy.
"It's a huge problem dealing with all of the issues after an accident such as vehicle damage, lost time from work, and then finding car accident doctors at pain clinics in Arizona who accept liens and can provide timely treatment. Arizona Pain's doctors offer a lot of treatment options, and they accept liens, and their chiropractors will see patients within 24 business hours guaranteed," said Arizona Pain Network CEO David Greene.
Arizona Pain also a lot of health insurance plans as well, which can be useful after an accident and possiby increase the amount of settlement available to a person at the end of the case. This includes BCBS, Aetna, Cigna, United Health, Medicare, Worker's Compensation, and some AHCCCS plans such as APIPA and Mercy Care. Arizona Pain will treat an individual under a lien without insurance if necessary.
"It really is a tough period in someone's life, so why make it harder than it needs to be? With all the treatment options available at Arizona Pain and the fact they take liens, outcomes for pain relief are tremendous. Research has shown that when people start treatment sooner rather than later after an auto accident, results are improved, especially for whiplash injuries. If that can help restore dignity while offering pain relief, that's the ultimate goal – getting people back to life and what Arizona Pain does very well!" said Greene.
After being in a motorcycle or auto accident and having pain, individuals should call (602) 507-6550 to make appointments.